Resumen en español al final del artículo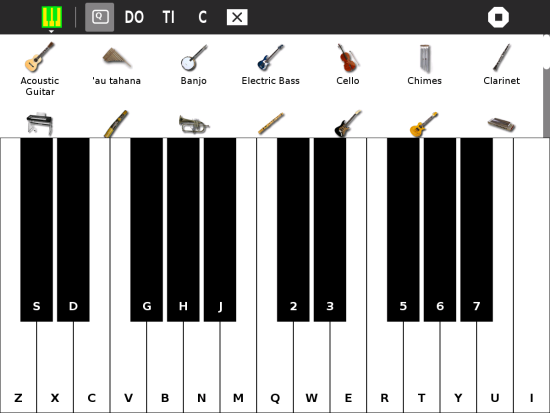 The new Music Keyboard Activity added in OLPC OS 13.2.0
Last week the release of OLPC's latest operating system version 13.2.0 for the XO-1, XO-1.5, XO-1.75 and XO-4 (Touch) laptops was announced. Per the corresponding release notes the focus of this version was set on:
"...cleaning up a few edges from our previous release, and finishing off support for the new XO-4 laptop."
More specifically some of the most notable improvements and new features of this latest software update are:
XO-4 power management and bluetooth support
enhanced touch support
Music Keyboard Activity
Journal Share Activity
several Sugar Activity updates
performance improvements
The one improvement I'm personally most excited about after reading its description is the Journal Share Activity:
To hand out an assignment to the students, the teacher starts the Journal Share activity, shares it, and adds the assignment to the session. Students join the shared activity, and with a single click, the assignment appears in their Journal.
When the teacher wants to collect in the student's work, the teacher starts the Journal Share activity and shares it. Students join the shared activity, and add their completed work from their Journal. The submitted work is automatically transferred into the teacher's journal for later assessment and evaluation.
Software support for this basic hand-out / hand-in workflow is something that has been missing for far too long and it has always been one one of the most often mentioned feature requests whenever I've talked to teachers. Unfortunately I haven't had a chance to try this Activity out myself yet but it's very encouraging to see it being integrated into the software.
In terms of the performance it feels like on my XO-1.75 OS 13.2.0 is a tad faster than OS 13.1.0. However both versions still seem to be a bit slower and less responsive than OS 12.1.0 from mid-2012.
As always you can find the installation and update instructions in the official release notes. In case you run into any issues check the known problems section there to see whether they've already been reported. I did a simple online update from 13.1.0 on my XO-1.75 last night and it worked like a charm.
---
Resumen en español: La semana pasado OLPC publicó su más reciente versión 13.2.0 del sistema operativo para XO-1, XO-1.5, XO-1.75 y XO-4 (Touch). La nueva versión trae varias mejoras y nuevas características para la pantalla táctil de los XO-4 (Touch), unas nuevas Actividades como una para compartir y recoger entradas en el Diaro fácilmente, actualizaciones de Actividades y mejoras en el rendimiento. Información sobre como instalar o actualizar un XO esta disponible en esta pagina en el wiki de OLPC.