I think we can all agree that the topic of whether Microsoft software should be running on the One Laptop Per Child X0 machines is currently a good trigger for extensive discussions. I myself have previously commented on this issue and other posts by Jon and Wayan have covered different angles to the story. The comments on this story also quickly turned into a debate about Windows on the X0.
Why is this issue such a hotly debated one? Is this just the natural extension of the Windows vs. Linux, Good vs. Bad, Open-Source vs. Closed-Source, Geek Culture vs. Corporate Greed, etc... discussion that has been raging on the desktop for so many years? A discussion which manages to survive on surprisingly few solid arguments and generally tends to be a very emotional one.
We have previously presented several different opinions and angles on this topic but last night I realized that there was one aspect which we hadn't mentioned even though it came up in a comment by one of our readers. Collaboration. Collaboration is at the very heart of the OLPC project.
Whether you're looking at the principals behind their concepts of how education should work or how the activities for Sugar are written. Their website is a Wiki which in this day and age is probably the best proof that collaboration can work very well for content production. Every piece of software running on the X0 machines has collaboration built into its very heart (or is at least supposed to) and content sharing is a fundamental aspect in how that system is supposed to be used.
Even very basic technologies like the OLPC Journal are often based on ideas conceived by a global community of coders, in this example Bryan Clark. And while the way the OLPC organization communicates its concepts, goals and methods are certainly up for debate they generally do a more than adequate job when it comes to keeping everyone informed on what they're doing.
Microsoft does the very opposite of what's written in the paragraph above. We simply don't know whether the company is interested in anything more than selling several million copies of its $3 Software Package for Developing Countries. It's very unlikely that any of the applications shipping with that package are open-source or written by anyone who's not working in Redmond.
Microsoft has a website for their Microsoft Unlimited Potential - Community Technology Skills Program but it doesn't really contain useful information. Given the lack of communication (apart from the occasional press-release) we simply don't know what kind of software the company plans on installing on the X0@XP systems.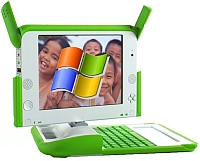 1GB of flash-memory is very little once you start installing Windows XP Starter Edition, Microsoft Office Home and Student 2007, Microsoft Math 3.0, Learning Essentials 2.0 for Microsoft Office, and Windows Live Mail desktop (which combined make up the $3 "Microsoft Student Innovation Suite"). So it's obvious that for the X0 machines Microsoft will have to find some sort of compromise.
I'm also very skeptical when it comes to actual collaboration for the children using WinXP on the X0s. So far I haven't seen Microsoft release any piece of code that would really make that collaboration easier. (To be fair OLPC's software also hasn't been tried and tested, but at least they're working on it.)
What about Anti-Virus software or Firewalls to counter the potential security issues, will Microsoft include them for free? What about the school servers, will Microsoft allow them to run on whatever software solution the OLPC foundation comes up with or will schools be forced to purchase licenses of Windows Server 2003? Will the company provide free versions of Encarta in order to compete with the special offline-Wikipedia version that OLPC currently plans to include with the X0 infrastructure?
To cut a long story short: Regardless of all the emotional arguments raised in the discussions mentioned at the beginning of this post I personally don't believe that Microsoft is really able to provide a viable alternative to Sugar. At least not at this point.