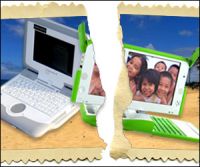 Watching the breakup of Intel and One laptop Per Child has been entertaining to say the least. Intel seemingly "pulled a runner" - left Nicholas Negroponte in the middle of the night without even a kiss goodbye. Negroponte claims he heard the news in a taxi.
Like many a person unexpectedly waking up alone, Negroponte spun the scene quickly to hide his pain and shame of not seeing that quick exit coming. So far he's doing a good impression of a girl left wanting.
Let's take his quote in Fortune about the Intel + OLPC agreement and have a little fun. The original quote:
[Intel] didn't do one single thing in the agreement. Nondisparagement is the easiest. That clause they violated all over the place.

They said they'd work on software, but they didn't touch it. We said we'd work on the architecture together, and that wasn't done. We said we'd work on a processor and to this day don't have a spec on it.

The nonfulfillment on their side was so continuous I don't even know what to say.
And now let's think about that coming from a woman who just realized her dream date was a only a one night stand:
Paul didn't do one single thing he said he would. Saying it was good is the easiest. He's told everyone that it wasn't a fun night.

He said he'd buy me drinks, but he didn't touch the bill. We said we'd cook dinner together, and that wasn't done. We said we'd talk about tomorrow's plans and today I don't have a clue what he wanted.

His nonfulfillment was so continuous last night, I don't even know what to say.
Sadly, like any lover's spat, the finger pointing and blame game just makes both parties look the fool. But whatever, we still love watching a public breakup and I can't wait to hear what foolishness each side says next.