While surfing over on wiki.laptop.org earlier today I noticed that an interesting update regarding Give 1 Get 1: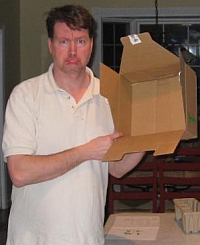 Can't stand no more G1G1 sadness
Important information about the first G1G1: The deadline for activation of the T-Mobile accounts is June 30th. If you have not activated your account, please do it today! OLPC will not be able to help you after the 30th.
I assume if you're geeky enough to read this Web site you probably activated your T-Mobile account on day 1. However it would be a shame for people to realize on July 1st that they still haven't activated their account. So if you know any G1G1 people who might have missed this then let them know about the deadline.
If there are additional issues or concerns (replacement laptops, bad shipments) from the first G1G1, please send an email to HELP @ LAPTOP.ORG
I am wondering how many "get 1" XOs are actually being used these days and how many are sitting in boxes, on shelfs and in basements gathering dust since their owners realized that no, this is not a replacement for a $1000 Dell machine.
OLPC has begun planning for the next Give One Get One (G1G1) program which will be available to the US, Canada, and several other countries. It is expected to launch later this year. Please check our website for more information after September 1. (my emphasis)
Ah, interesting, seems like September 1st is D-Day! That gives OLPC some more time to address the plethora of issues that plagued the first Give 1 Get 1. Plus that Christmas delivery looks potentially feasable, even for the Canadian folks.