As part of his plan for de-occupation of Abkhazia and the Tskhinvali region/South Ossetia, to reverse the process of Russian annexation, and peacefully reintegrate them into Georgia's overall society, the President of Georgia, Mikheil Saakashvili, is promising a "President's Gift" to the residents of these areas - English language classes and XO laptops for every first-grade schoolchild.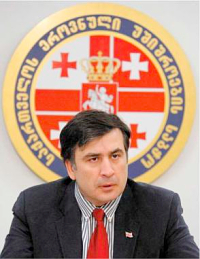 President of Georgia, Mikheil Saakashvili
According to Civil.ge, President Saakashvili held an XO in his hand and declared it part of a "linguistic and computer revolution" plan.
In what I think is a fun joke at the Russain's expense, he followed up by saying:
"As part of our new strategy we are offering Russian occupying force... that we will bring these [mini-laptops] on the condition that there will be international control so that to prevent them [referring to Russian forces] from throwing them [mini-laptops] at each other or throwing them back to us
And apparently, he's ready to spend the millions of dollars it would take to have a One Laptop Per Georgian Child program. Good luck to him - he'll need it in dealing with the Russians.