There's no doubt about, when it comes to selling small laptops (or what's now often called a netbook) Asus is king of the hill. Just like most people think of Apple's iPod when it comes to MP3 players Asus' eee PC brand has become synonymous with small inexpensive laptops. I honestly can't remember the last university lecture where I didn't see at least one student with an eee PC and on a short 2h train-ride on the weekend I spotted 3 people using eee PCs.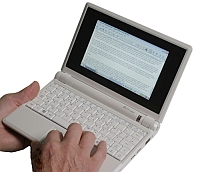 To compete or not to compete.
Nicholas Negroponte might have talked of selling millions of XOs by the end of the 2008 - and the reported 500,000 XOs produced so far are nothing to cough at - however Asus recently revealed that it has sold 4 million eee PCs to date and aims for 5 million by the end of the year.
However even though the eee PC and XO are often mentioned in the same breath I would argue that the direct impact of Asus' success on OLPC has been relatively limited. Yes, some potential Give 1, Get 1 donors might have decided to opt for an eee PC instead of going the XO route. But when it comes to OLPC's core market - education in developing nations - I haven't seen too many reports of countries or organizations choosing Asus' laptop over OLPC's lean-green-machine for pilots and deployments.
So I still do believe that the XO is superior to any competing laptop when it comes to addressing the challenges that computers have to endure in childrens' hands in places such as Peru, Nepal and Rwanda. Also XOs ($188 ~ $204) are still cheaper compared to the entry-level eee PCs (~ $300). $100 of price difference might not matter to you and me but it does make quite a difference when purchasing ten-thousands of units. Despite numerous recent reports and discussions about the overall TCO of computers in schools I believe that the unit-cost is still quite an important psychological factor.
However things are changing as it's now being reported that Asus will introduce a $200 eee PC in 2009:
Shen detailed that the company has adjusted its mid-range and entry-level Eee PC's pricing and market position, and expects to launch an Eee PC priced at US$200 in 2009.
With OLPC and Asus being on a level playing field when it comes to the price of their laptops the direct competition between them is bound to increase. I'm certain that many governments and organizations will now be taking a closer look at Asus' products before making any final purchasing decisions. With Asus' broad (some might argue excessive) product lineup - compared to the XO's one size fits all - I can easily see the Taiwanese company making significant inroads into OLPC's market.
Of course seeing that OLPC is all about education and not laptops we can debate whether this really matters or not. However I do think that this development demonstrates that Asus (and others) are quickly catching up to OLPC with regard to the technology. This happens due to an impressive rate of innovation and product refinement. The XO hasn't changed since production started a year ago and contrary to earlier promises its price hasn't gone down so far. The eee PC lineup on the other hand is seeing rapid development on several fronts and now the promise of a lower entry-price for 2009. Some might point to the XO-2 as an example of amazing innovation, however by the time it actually becomes available Asus is also very likely to offer touch-screen eee PCs.
At the end of the day what I'm trying to say is that it seems that Asus is on a good path to finishing what OLPC orginally started: designing innovative and low-cost ICT solutions for everyone.