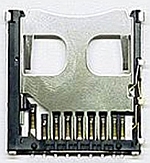 A naked SD slot
Back when we first heard that there would be a SD slot on the OLPC XO, I wondered why since
Secure Digital wasn't Open Source
. Subsequently, we learned from Walter Bender that an SD slot for the Children's Machine XO is the first truly
Open Source SD implementation
. Then we learned from Nicholas Negroponte the reason why a SD slot was needed to begin:
Windows on the OLPC
:
Although the machine is preinstalled with Linux but this doesn't mean that you can't run Windows on the machine, Negroponte said. " We put in an SD slot just for Bill," he quipped.
Or so we thought. Now Jim Gettys, Vice President, Software Engineering, One Laptop Per Child has revealed his
SD slot backstory
:
I'm also glad that Microsoft likes the SD card (which they need); note that that will cost much more than Windows, and that Linux doesn't need it ;-). Again, the primary push for it were two events, taking place last summer, little of which had to do with Microsoft:

We found the Geode GX had a lousy NAND flash controller, so bad we had to build an ASIC to have a system with decent performance. [...]Once we had an ASIC, the incremental cost of the SD slot (which the countries had been asking for) was just about the cost of an SD connector.
Feedback from the launch countries was (correctly) that with the current drop in flash prices, having some way to augment the on-board flash cheaply would increase the useful lifetime of the system.
BTest-3 hardware upgrade
backstory. Essentially AMD offered the Geode LX-700 processor at the same price as the earlier GX processor power and with flash prices dropping, a slight increase in price could double the flash memory, both changes that the
participating countries
embraced.
Now Jim does touch on the Microsoft Windows issue, which he says is about freedom of choice. At the basic level you can agree with his logic, an open platform should be open to any operating system, but shouldn't that be any Open Source operating system?
Especially since he says:
free and open source software is one of the five tenets of OLPC, worked out jointly with discussion with the countries.
.