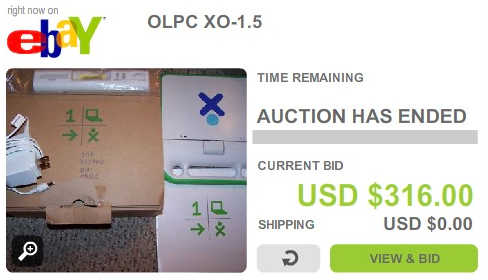 Recently, the first XO-1.5 to appear on eBay sold for $316. This my friends, is a travesty.
The XO-1.5, with a 1Ghz processor and 1GB of RAM, is a solid upgrade from the XO-1. Yet this sale is disappointing when unused XO-1 are selling for over $300 each. I was expecting at least $350 for the XO-1.5 - it has a Sugar / Gnome dual boot, what so many USA geeks wanted so they could use Linux programs instead of Sugar Activities. And with an eBay seller, you could actually expect an easy shipping experience.
So what when wrong? Why did the XO-1.5 sell for so little? Was it bad timing - ending the auction at 5 am on a Monday - or maybe market ignorance as fewer people know the XO-1.5 moniker vs. the XO-1? Regardless the reasons, what do you think is the right XO-1.5 price?
Oh and for those hoping for XO donations, I say Damn the Free XO-1.5 Laptops: We Want OLPC Sales!