The Birmingham Board of Education is quickly learning that the full implementation costs of One Laptop Per Child are much greater than a $200 laptop. This week's lesson? The Birmingham News reports that the BoE was just told it needed buy routers to provide wireless Internet service in every school.
[Bob] McKenna attended last week's seminar on the XO Laptop in Boston. "You need to add a router to every school and as long as there is one, every computer in that field can tap into it," McKenna said. "Depending on what type of router you buy, it's about $39 plus a monthly fee."
Now John Katopodis, adviser to Mayor Larry Langford, says he already has a solution - a router donation from Texas - but does he know about the
OLPC Active Antenna
?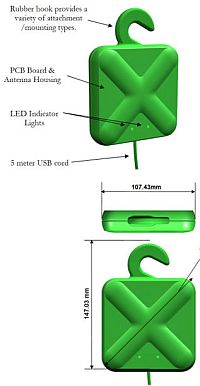 The Active Antenna is a standalone version of the wireless mesh network interface used in the XO laptop. It connects to a host or power source through a 5m (16ft) USB cable. As a mesh networking interface, it both serves as network interface for any host connected through USB and as a repeater node in the mesh.

Two or three Active Antenna are used with each School server, one may be connected to an XO or other laptop to allow mesh networking, or they may simply be connected to a wall brick providing power. If connected to a USB host (and not just a power supply), it requires a specialized driver which uploads firmware and manages the mesh functionality.
Not only is this more cost effective than John's routers, it will also extend mesh networking outside the classroom, so children can learn outdoors too. I'm thinking
OLPC Planetarium
!
Sadly, B'ham School Board member Virginia Volker was thinking about a whole other use for the XO laptop: XO porn. And what was Bob McKenna's answer?
McKenna said filters would have to be added to the school routers, but parents need to be on the lookout as well. "We need to look at bringing all parents together to make them understand the power of this technology," he said.
Yep, parents have responsibility too, and need to be included in OLPC implementation. Concerned and engaged parents like
Betty Dingus's friend
.