Reading the CM1 2B1 production specs, I was struck by a curious diversion from the One Laptop Per Child's Open Source Manifesto.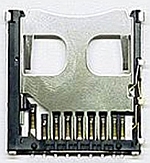 A naked SD slot
If you look closely at the hardware profile, it will come with "three external USB-2.0 ports, plus an SD slot." A SD slot? Now that's odd.
Secure Digital (SD) is a proprietary flash memory card format, including Content Protection for Recordable Media (CPRM) encryption hardware, based on the MultiMediaCard (MMC) format.
I can see why OLPC might be interested in SD slots, many cameras use the SD format and SD slots can support SDIO (SD Input/Output), which means the SD slot can be adapted to take add-ons like Bluetooth adapters, GPS devices, RFID readers, digital cameras, etc.
Still, Secure Digital isn't inline with the overall Open Source mindset of the One Laptop Per Child program. Its definitely not Open Source and it's not even Open Standards. In fact, it's highly closed and proprietary. To quote Pal Lever on Linux Devices:
"SD and SDIO card IP is protected via patents, trade secrets, and copyrights. If you follow the license terms, keep the IP confidential, and make your payments to the right parties, then you can legally ship an SD/SDIO stack."
But what does that mean in essence? Back to Paul:
"You really can't offer an SD or SDIO stack in open-source form and meet the licensing requirements currently in effect for these devices."
Wow, so OLPC is pretty much violating its own Open Source manifesto that states:
Must support and promote open and patent unencumbered data interchange and file formats.
Why is that? Why would the very principled One Laptop Per Child go against the Open Source community in such a obvious way?

Might it be that the SD Association pushed to have its proprietary format included to increase its desire to be the industry standard? Or could this be a case of the dreaded "fat lady can't sing" and OLPC is succumbing to the tendency to add stuff?
Wouldn't a fourth USB port been better? Or as a commentor on the OLPC Wiki says:
"Should I dare to mention USB connected multicard readers? Offering only a single solution [SD] on the OLPC leans towards proprietary-ness."
That it sure does.