In this weekend's , OLPC VP Walter Bender casually drops an OLPC product lineup bombshell:
We are shipping five products this fall: (1) the XO laptop; (2) a school server; (3) a multi-battery charger; (4) an active antenna; and (5) a solar-powered WiFi repeater. Much of the emphasis has been on the laptop, but a push from Quanta this week has resulted in firmer plans for the other products.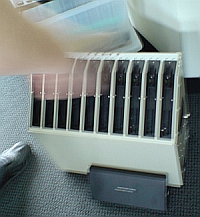 OLPC multi-battery "gang charger"

While I am glad that we're starting to see all the OLPC peripherals, Walter Bender's list seems a little ad-hock. We are all intimately familiar with the OLPC XO, but what are the other four "products" that Water speaks of?
The last time we checked, school servers were still very much an idea or barely Beta, and now they're going to be production ready? The multi-battery charger, or "gang charger" is even more mysterious. There is a basic Wiki entry, and now a photograph, but not much else.
Walter tells us about the active antenna for the first time in the very same update:
Thanks to John Watlington and the team from Cozybit, we have out first working "active antenna" prototypes. Attaching them to an XO lets you optimize the placement of the antenna: use with a mesh portal will double the network throughput. They can be used on the school servers or attached a 5V power supply to build a stand-alone WiFI repeater.
Luckily, thanks to
Aaron Kaplan
, we now know more about the
solar mesh repeaters
, but that was only last week.
I would've hoped we could have a little more detail on what each product is - spec sheets, photos, even developer chatter. An open peripherals development process to dovetail with the generally open laptop development and very Open Source software development. But maybe I am just too demanding.
I don't think its too demanding to wonder what will be the cost of all these products that OLPC will ship in addition to OLPC XO's. In essence, how much will a full OLPC implementation cost? If its $176 per laptop, then how much is it for laptop + four more products? Maybe that's why the original MOU with Libya (before they dropped their order numbers) came out to $208 per laptop?
And will children still be the OLPC maintenance plan once school servers or tree-mounted repeaters are included? Both are more complex to repair and/or have a greater impact if the repair isn't successful, than a single laptop. Not that single laptops aren't Humpty Dumpty all by themselves.
Last but not least, what every happened to human power generation? Where are the yoyo's in the OLPC product mix and how much will they cost? Or is OLPC relying on grid powered gang chargers and long battery life to illuminate households at night?