Ian Paul Cunningham, IT Project Officer in Australia's Northern Territories Department of Education and Training has an interesting keyboard hack for us. He writes:
I noted that the keyboard membrane appears to be the XO's Achilles' heel. It is very tempting for little fingers to pick at the keys and remove them. Seeing the pictures of the XOs that have been loved to a state where their keyboard membranes are falling apart prompted me to try an alternative.

This is a first attempt using commonly available materials. The keyboard layout is printed on a sheet of paper and laminated in a plastic sleeve, then trimmed to size. Silicone sealant is lightly applied around the edge of the keyboard and on the 5 holes on the base board. I am trying to get the artwork laid out so that three keyboards can be printed on an A4 sheet.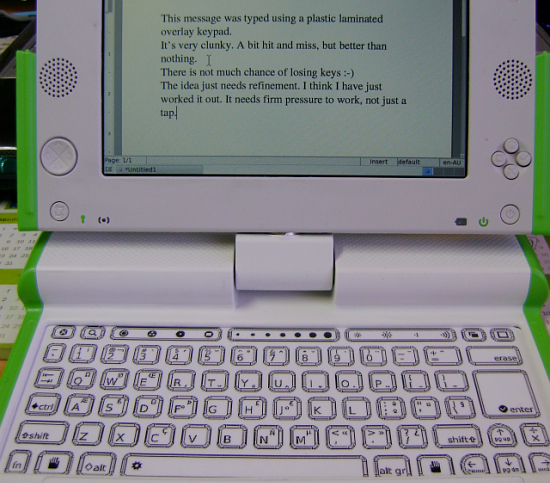 The assembled key pad requires a pressing action, rather than a touch action. Next step is to work out how to make it touch sensitive without complicating the construction process.