Well whaddya know. While I was just speculating on the fate of the CAPS LOCK key on One Laptop Per Child 2B1's, Christopher Blizzard posted about the OLPC keyboards he's testing.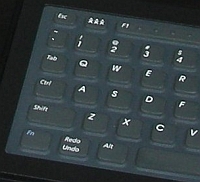 "Water resistant" not "water proof", the sealed keyboards are a variety of weights and key travels, and after Christopher and his team test them, they will do a larger test with K-12 students.
Tests of keyboard without CAPS LOCK keys!
While these keyboards are not end-production models, and each country will be able to offer customized keys in its preferred layout, the lack of CAPS LOCK keys at this stage is a strong sign that this time around, Nicholas Negroponte will not need to toss keyboard designers in jail.
CAPS LOCK Update!:
In his keyboard post comments, Christopher Blizzard says:
"Yep, the CAPS LOCK and the other *LOCK keys are gone. A lot of other things are going to change on the keyboard, but those aren't coming back."