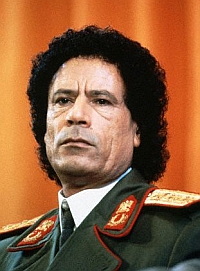 Muammar al-Qaddafi
Do you remember the hype around
One Laptop Per Libyan Child
, the MOU between Muammar al-Qaddafi and OLPC? Do you recall that Libya was to buy 1.2 million OLPC XO's for $250 million dollars, or a total cost of $208 dollars per laptop?
Now that the price of the Children's Machine XO hardware has increased from $150 to $175, it seems that Libya might be rethinking exactly how many computers its going to buy. Reuters is reporting that:
Last week Nicholas Negroponte told Reuters in an exclusive interview that the Gaddafi Foundation had cut its order for the inexpensive laptops by 700,000 units to 500,000, possibly delaying the launch altogether.
And what did Nicholas Negroponte say? Here's the
interview transcript
from
OLPC Talks
:
Negroponte: Libya, interestingly enough, is entertaining giving its neighbor 125,000.

Interviewer: They ordered a million, didn't they? That was put out in the press release.

Negroponte: That was put out in the press release, but again press releases are worth..when the time comes, that is in August, we'll do a smaller amount in Libya.

Interviewer: What are you thinking?

Negroponte: 250,000

Interviewer: Oh, really?

Negroponte: And then 250 outside.

Interviewer: But Libya is going to pay for those.

Negroponte: Yes, at the moment the Khadaffi Foundation will pay.
Could Libya now be buying 500,000 laptops for $250 million, or $500 per laptop? Or has their investment in computers decreased also? And it's interesting to note that half of Libya's OLPC XO purchase will be
donated to other countries
. Is this Qaddafi's hope to be Africa's statesman?
Regardless, Libya is still interested in One Laptop Per Child and we're still waiting for a OLPC4Libya Comprehensive Implementation Plan.