Resumen en español al final del artículo
This weekend the fine folks from the OLPC community in New Delhi are organizing a 2-day conference and hack session: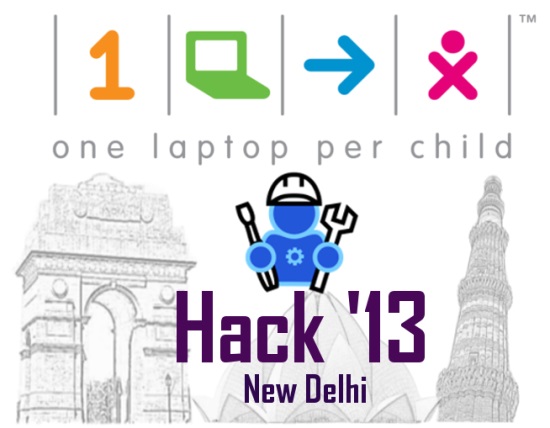 Kartik Kumar Perisetla, one of OLPC Hack '13 New Delhi's organizers, sent over this event introduction:
For the first time in India, passionate developers and volunteers are coming together in the capital to be part of an educational reform that is changing the world at rapid rate. Yes, its One Laptop per Child. Since long individual volunteers are working on Sugar Desktop Environment on independent things and contributing, but now the time has arrived to come together and collaborate to amplify the effort to see impact. A two day long hackathon has been organized in New Delhi to bring together developers, volunteers and budding contributors who want to join the mainstream body impacting education of millions of children across the globe in the open source era.
OLPC/Sugar experts and volunteers will be taking sessions, discussing about how it all started, what they do, what is XO, how deployment works and how its actually bringing the change in the world. Most fascinating part of event is the deep dive on why it all started and how can each of the invitee can participate and encourage others to join this wonderful cause.
A key attraction is the overnight hackathon where experts will mentor participants on how to write activities, how sugar works and how they can contribute in this project. Developers are also encouraged to develop an activity as part of overnight hackathon to ensure they got the crux of it and to get their creative ideas on board that will benefit OLPC. So far amazing response has been observed for the event. We believe that Hack '13, New Delhi event should bring much larger participation from india in OLPC.
Unfortunately I won't be able to join the fun in-person but I will likely appear as a virtual participant during a panel discussion.
Another possibility for remote participation is a Google Hangout On Air session which will be hosted by the Unleash Kids Campaign. It will take place on Saturday, June 8 between 7:30am - 8:30am EDT (that's 1:30PM for people like me here in Central Europe and 5PM local time in New Delhi). Add Unleash Kids to your circles on Google+ to see the Hangout On Air or visit the Unleash Kids YouTube Channel.
Be there (at least virtually;-), or be square.
---
Resumen en español: Este fin de semana la buena gente de la comunidad de OLPC en Nueva Delhi están organizando una conferencia y una sesión de hacking de 2 días: OLPC Hack '13 New Delhi. Lamentablemente no voy a ser capaz de estar allí en persona, pero probablemente voy a aparecer como un participante virtual durante un panel de discusión.