Resumen en español al final del artículo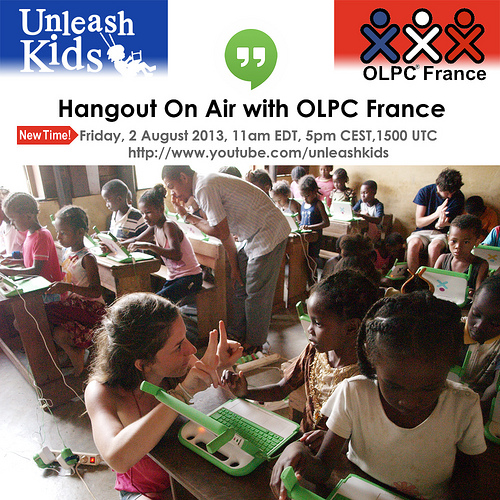 Original photo by OLPC France's Laura de Reynal
This Friday, August 2 I will be hosting Bastien Guerry and Xavier Carcelle of OLPC France in an Unleash Kids Hangout On Air session. This will be my first solo-show so to speak since my co-host extraordinaire Mike Lee will be somewhere in the depths of Ohio and therefore essentially offline. But aside of a tad of nervousness regarding potential technical glitches I'm really looking forward to this session.
There are many things to discuss but three of the core topics we'll definitely cover are:
OLPC France's project on the island of Nosy Komba in the north of Madagascar (yes, the one with the world-famous XO Dance!)
The project in Saint Denis on the outskirts of Paris
OLPC France's role as an olpc community hub in Europe
I've admired OLPC France's work and dedication since I first found out about them in what must have been early 2008. Plus their contribution to the olpc community can't be overstated, especially since they organized Sugar Camp in May 2009 which (at least in my mind) was the first real international olpc and Sugar community gathering. As such I'm really excited about this show.
You'll be able to tune in live at youtube.com/unleashkids this Friday, August 2, 2013 at 11AM (EDT) / 1500 (UTC) / 1700 (CEST) (if you're having trouble figuring out what time that is in your location I recommend the excellent worldtimebuddy website). If you do tune in live and have any questions during the show then please either e-mail them to contact@unleashkids.org or tweet with the #unleashkids hashtag. I'll do my best to keep my eyes open for questions and include them in the session.
Alternatively you can of course also watch the recording on YouTube afterwards where you'll also find our past Hangouts which covered projects in Afghanistan, Nepal, the Pacific, and the recent School Server Community Edition (XSCE) efforts.
---
Resumen en español: Este viernes, 02 de agosto yo yoy a hablar con Bastien Guerry y Xavier Carcelle de OLPC France en un episodio Unleash Kids Hangout On Air. Vamos a hablar sobre su proyecto en la isla de Nosy Komba al norte de Madagascar, un otro proyecto en Saint Denis cerca de Paris y el papel como un centro de la comunidad olpc en Europa. Seguro que será una conversación excelente y les recomiendo a verla en vivo en en youtube.com/unleashkids este viernes, 02 de agosto a las 11AM (EDT) / 1500 (UTC) / 1700 (CEST).