Coming close on the heels of OLPC Nigeria classroom testing, Walter Bender's raves about OLPC Brazil classroom testing
Lea Fagundes and her team have been working with the XO in the Luciana de Abreu Elementary School for three weeks and already is having tremendous impact. The children of course are doing fantastic work and you see them moving around the school, taking pictures, working on projects, and truly engaged in their learning.
You can even watch this video of an OLPC Children's Machine XO classroom in Luciana de Abreu School, Porto Alegre, Brazil to judge for yourself:While I was under whelmed by the video, I am downright scared by Walter Bender's other observation from Brazil:
Yesterday two teachers were unable to come to school due to family emergencies and the principal could not get substitutes; they dismissed the children of those classes early. For the first time in anyone's recollection, no one left when dismissed, preferring to stay and work with the laptops.

The school had record attendance by parents for a meeting, with more than 10x the usual number attending. The teachers and children are ecstatic. The concrete example of children, teachers, laptops and learning is changing the minds of doubters.
So Billions of dollars should be spent on "
$100 laptops
" to boost attendance rates, Negroponte's
"energy" in schools
? Wouldn't that happen with
any
new shiny, flashy thing, especially one with
this much hype
? The real test will be the level of attendance and parental participation when the novelty and all the visitors are gone, and level of impact both attendance and participation via the OLPC has on education.
And I hope that 10x the usual numbers of parents show up when Internet-enabled computers are given to children to use without adult guidance. A mass parent's meeting should be part of a cultural integration process where the local communities are introduced to the technology and allowed to familiarize themselves with it. No one wants a wholesale rejection of computers due to ignorance and fear, or worse, unsupervised kids forming OLPC-enabled youth gangs.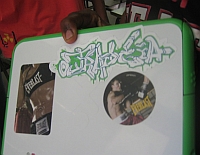 We have sticker personalization!
Luckily for Lee Felsenstein (and those that read Portuguese at least), this testing environment is different than Nigeria's - Bruno Sperb of Laboratório de Estudos Cognitivos is posting raw progress reports from the field:
Feedbacks are being given every to OLPC team weekly (even daily), based on the interactions of children and teachers with the XO.

Some of the educational results (children's projects and researches, just in Portuguese, tough) can be seen in our virtual environment called AMADIS. Its like an orkut of learning, where children are posting their diary, learning projects, pictures and, in the next days, websites.
Hopefully One Laptop Per Child will be as open source about its field testing results as it is about its clock-stopping hot technology. Even if
OLPC's Mission changed
, positive educational change is still the overall goal and uncensored results would go a long way in validating their
Billion dollar dreams
.