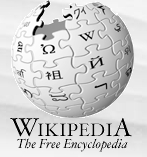 While I still say that
OLPC + Wikipedia
was no surprise anyone who knew that
Samuel Klein joined OLPC
, the match-up has continued to be reported by news sources around the globe.
He was careful not to characterize the move as a joint venture between Wikimedia Foundation Inc., the nonprofit corporation that operates Wikipedia, and OLPC. Like any user of the online encyclopedia, OLPC can freely use Wikipedia's content, Wales said.
Second, OLPC is not going to ship laptops with the entire Wikipedia on each one. The current plan is to distribute the encyclopedia information across the mesh network, each child hosting some small portion of the content. Christopher Blizzard, a key OLPC contributor,
explains the details
:
The trick becomes - what content? What set of knowledge do we include? Some subset, different on each laptop? That's hard from a manufacturing standpoint. But it would be great if we didn't just have access to wikipedia in its current form, but could actually use the local laptops as independent storage for a subset of articles.

Remember, a lot of the laptops are going to be put into the world in bandwidth-limited places and they only have a few hundred meg for storage. So using a cooperative caching mechanism might be interesting. Don't have a page in your local cache? Ask a laptop around you. Then you go to the interweb to find more content.
Is it possible that this OLPC/Wiki consortium is planning to load these poor kids' laptops with propaganda, create a sort of techno-madrassah?
Ha! Yes, Daily Dig, you are a conspiracy nut.