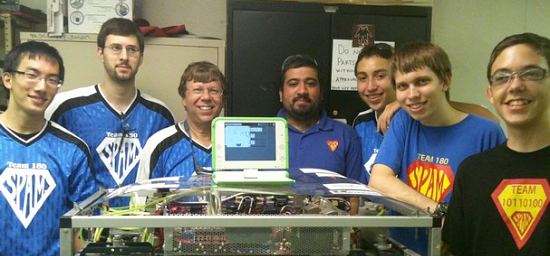 This summer, high school students came together to learn how to make games for the XO laptop platform in the Summer pyGames. The goal? To challenging all students to participate and create their own games that make Math, Language, and Science fun! Changing our world, one game at a time.
According to TCpalm, the Martin County School District Robotics team, S.P.A.M. Robotics, was awarded the Student's Choice Award in the 2010 Summer pyGames Competition - their first time participating in the event.
"Students on the high school robotics team were having a hard time getting their arms around the how's and why's of computer programming," explained Eric Schreffler, a computer programming mentor with S.P.A.M. and an engineer with Belcan Corporation. "When I heard about Summer pyGames, it hit me that this would be a perfect way for students to not only learn a programming language, but to learn what it takes to create their own idea for a game and make it a reality."
Now S.P.A.M. Robotics did not win with an XO Robot. Instead, six students from the robotics team created a game that helps teach spelling to lower elementary grade students and won for most favorite game.
Congratulations to A.J. Lawrence, Mac Fritschle, Yang Chen and Ralph Rivera from Jensen Beach High School; Kevin Peavler and Mitch Brooks from Martin County High School; Rich Simonson from South Fork High School; and Bryce Barbato and Eric Schreffler, professional mentors.