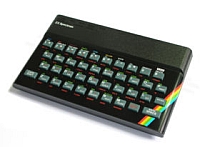 If the One Laptop Per Child project is to be a success, it has to look at previous computers that have gone down in history... For me, growing up in the 1980s in the UK, I see many parallels with the Sinclair ZX Spectrum.
It was the lowest cost colour home computer, it had a huge following among school-children, was tiny compared to most computers of the time, and had a rubbery keyboard.

Two things seemed to drive the popularity of these machines - they were easily programmable at home, and they had great games on them. The Children's Machine XO is easy to program (the source code for each activity is available for the user to modify), but as yet, OLPC activities are mostly of an educational nature.

So what can be done? I would urge anyone reading this to think back... What were the games that inspired you as a child? Then contact the designers and ask them to consider rewriting them for the OLPC.
One game that sprung to my mind was Granny's Garden, originally written for the BBC Micro. This was an engrossing, sometimes scary (for small children) adventure game involving maths and logic puzzles.

So please, if you know anyone who has written a great game for children, contact them and urge them to re-version it for the OLPC. Even if the game was commercial initially, converting the game to Linux for the OLPC would probably not harm the market in the developed world significantly (who mostly use Windows and MacOS), and may open the game up to new markets who would otherwise never have seen it.

I emailed the publishers of Granny's Garden with this suggestion, but have so far heard nothing.

Other games that spring to mind - Dizzy, Elite, Manic Minor, Jet Set Willy, Chuckie Egg, The Hobbit, and I'm sure you can think of many more. Of course, there are copyright issues with many of these games, but some are "abandonware", and others could maybe issued under creative commons licenses?