I'm Oriol Pascual, and amongst other things, love tech and new media. At the end of last year, I ordered an OLPC and while waiting for it to arrive, decided to aggregate already existing content regarding the XO.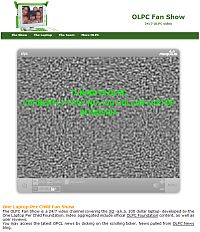 I created the OLPC Fan Show; a 24/7 tv channel about the OLPC program. The video player is from Mogulus and I use OLPC News RSS to feed the ticker.
Most information available on the Internet regarding the XO is text-based, and this is a good way to get to know all the details for anyone with an interest on the subject. However, I felt that video may be a complementary and friendly way to consume OLPC related content for those that do not have the time and/or patience to read long wiki pages and blogs.
In that sense, OLPC.tv does a great job by aggregating all video and audio related to the program. Moreover, platforms for video distribution like Mogulus allow anyone to deliver a tv-like experience where a series of videos are continuously streaming on a user-friendly player.
There's over an hour of quality content playing continuously on a loop at the OLPC Fan Show. I selected some of the official OLPC Foundation videos, a review from David Pogue, or a visit to a XO user in Africa. I tried to avoid home made and un-boxing videos. The idea is that if you don't know what OLPC is all about, and you want to get a flavour of it at minimum effort...then you should check the OLPC Fan Show.
The aim of the site is to spread the word and efforts of the OLPC program on a user-friendly way. The means to achieve that include the delivery of easy-to-digest content, recreating a familiar tv experience. Additionally, OLPC Fan Show provides the latest news from the OLPC News blog, and a chat to interact with other viewers.
I'd like to invite OLPC News readers to suggest videos to add. And if it happens that you hold a Mogulus account and want to produce some content, or even better, a live show; let me know in the comments below.