Back in early October a tweet by someone I follow alerted me to the fact that the deadline for submissions to the 26th Chaos Communication Congress (26C3) was less than 48 hours away. In a lunch break I whipped up a quick proposal for a lecture called "After the Hype - The current state of One Laptop per Child and Sugar Labs". A couple of weeks later I learned that my submission had been accepted.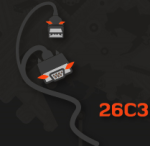 So just like last year I spent the time between Christmas and New Year's having a great time hanging out at 26C3 in Berlin. For those not familiar with the Chaos Communication Congress: it's a yearly event organized by the famous Chaos Computer Club (Wikipedia entry) that brings together hackers, researchers, artists and many other interesting people.
I have to say that I was quite happy with my presentation even though I literally only finished the slides 10 minutes before I went on-stage. The feedback I got after the talk - in-person, via Twitter and via the 26C3 Web site - was also very encouraging. Of course after a quick look over the recording of my talk I found a number of areas I should definitely improve on in the future but I guess it's always an iterative and evolutionary process.
Anyway, if you're interested in watching "After the Hype - The current state of One Laptop per Child and Sugar Labs" you can do so by downloading the video (~700MB), the slides are available for download here. I'm of course very interested in what you think of it so let me know by posting a comment or e-mailing me at christoph AT olpcnews DOT com.