We enter our fourth year of the OLPC Learning Club DC hopeful that the movement will remain strong for years to come, and we'll do all we can to contribute to the momentum. One project we urge you to participate in is the olpcMAP Project We recommend you create an entry there for yourself or if you know of a deployment of OLPC XOs, however small.
On a larger note, one of the highly touted benefits of the OLPC XO laptop is the ability for it to save on the cost and complexity of shipping paper books to children in remote places by loading it with electronic.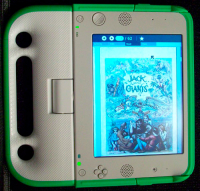 At this month's OLPC Learning Club DC, we'll take a look at the activities on the XO that support reading ebooks and review James Simmons' book on how to create ebooks for the XO and many other ereading devices.
Where there is internet connectivity available, XO laptops can also access the Internet Archive's Open Library books using a web-based book viewer, which has recently been updated to support touch screen devices. Also, a variety of e-reader devices will be on display.
What: Family XO Meetup
When: Saturday, February 19th, 2011, 10 am to 1pm
Where: Gallaudet University [map], Student Academic Center
in computer lab SAC 1211, Washington, D.C. 20002
We will again have the USB flash drives for updating the XO-1 and XO-1.5 to the latest 10.1.3 operating system. Make sure your XO laptop is completely backed up and charged up, and bring the AC adapter.