Hello PDX! It's been too long since Wayan organized OLPC News meetups in Portland, so while I am in town I'm organizing a Portland XO User Group Meetup this Thursday, July 17.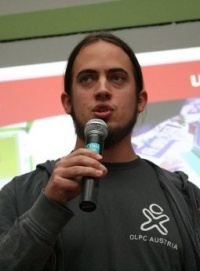 Your olpcnews co-editor
Now admittedly I'm not sure whether we'll be able to improve on the Canadian XO face-juggling madness however we're definitely going to give it a shot! We'll have much meshing of XO's with and beer-fueled discussions about all things OLPC.
We're also honoured to have Deepak Saxena from OLPC as a guest and he'll be able to answer all of your software- and especially kernel-related questions. I will also bring my XO which is currently running one of the latest joyride software-builds so everyone can take a look at the most recent changes and developments when it comes to Sugar.
Without further ado, below are the details of the event, looking forward to seeing you there!
OLPC News Portland Meetup
Thursday, July 17
6:00 - 9:00pm
Lucky Lab Northwest
19th and Quimby [map]
Portland, Oregon
One thing to remember, it may be Lucky Lab, but you can't bring your dog. You could always bring your children. They'd like the XO more than dogs anyway.