Non-profits are, in law, permitted to make a profit, though few do. The legal restriction is simply that profits may not be distributed to investors, so a non-profit doesn't have shareholders. Why might a non-profit want to profit?
Well, of course, most don't. In particular, Nicholas Negroponte is determined not to make a profit on the OLPC XO laptop, which some will see as entirely laudable. I don't, as I will explain.
No Profit Impacts
Now, it's true, OLPC charges governments $1 over cost, and the Give One Get One program charges $199.50 each for two XOs that cost $178 or so at the factory. That's not what industry considers a profit margin, since it doesn't even cover basic expenses like customer support, and that's where my argument begins.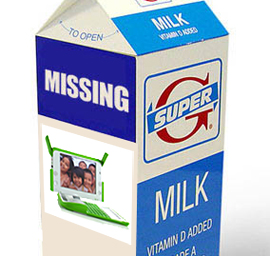 G1G1 customer support is abysmal.
Misaddressed packages due to faulty software design in the fulfillment system. (If you entered Company Name and Street Address on separate lines, the second got dropped, and the shipping company sent it back. The workaround was to abbreviate the company name and squeeze both into one line.)
Customers whose XOs came back were not notified.
No responses to e-mails.
Spending 45 minutes on hold to talk to a person.
Taking more than a month to figure out how to ship to Canada.
All of this is done in the name of sending everything possible to poor schoolchildren, as the name Give One Get One makes abundantly clear. Certainly it is an important measure of conventional non-profit performance to look at how much money goes to the people to be helped, and how much goes to office expense, salaries, raising more money, etc.
But OLPC isn't a conventional non-profit, and shouldn't think of itself that way, IMNSHO (In My Not-So-Humble Opinion).
Where to Spend Profits
Now I'm not suggesting that OLPC simply go corporate. One of the reasons why the XO is less expensive than the alternatives is that OLPC is a non-profit, and many of the people there, including Nicholas Negroponte himself, work as volunteers. As do I (although I have applied for a paid position).
I am suggesting that OLPC talk to some people at MIT's Sloan School of Management (not just to other geeks) about a financial framework that would pay for necessary expenses such as documentation and customer support. Or maybe to Presidio School of Management, which offers a Sustainable MBA. Whomever.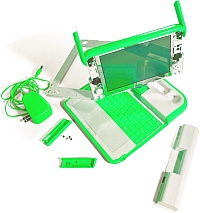 It is true that a requirement for documentation can be seen as a design failure, as discussed in The Design of Everyday Things, by Donald Norman. It is true that a major goal of XO design is to make things as discoverable as possible. Mostly.
But the XO has non-discoverable features. Easter eggs, even, like an instance of Conway's Game of Life, activated by holding down a button at boot. Inscrutable command-line functions such as yum and xo-get for installing software. Entirely non-obvious features of the Journal, and of a number of activities.
So it is vital that the XO is starting to get incomplete and not totally accurate documentation, such as the Getting Started Guide. And that people are working on many other documents, many listed on my OLPC Publications page on the Wiki. In particular, we need a visual hardware repair manual and a book on discovery on the XO to make the case that children can learn to use and repair XOs themselves.
These are important because you can't just tell people such things. You have to have a convincing demonstration. We also need a book inviting teachers and parents to discover the joys of the discovery process and its effectiveness in real education (not just scoring high on standardized tests).
Make Some Profit
So I'm talking about raising the price of the XO somewhat. I predict that Wayan is not going to be happy with me, because he complains about every bit of cost associated with the laptops. But my argument to Wayan, as it is to OLPC, is that profit is a necessary part of the process.
Moderate profit, not monopoly profit, extracting as much money as possible from a market. Profit means that we won't have to behave like other NGOs, always begging for money.
Profit means that we can fund everything else needed to start the virtuous cycle of getting people out of poverty so that they can invest in themselves and their children and their communities. Profit also for the students and their friends and relations, using what we sell to start new businesses, and even new sectors of their national economies.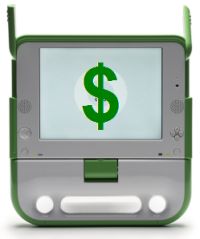 Profit means that OLPC, or somebody, can provide the whole world with the technologies needed for clean water, and health care, and in fact all the rest of the UN's Millennium Development goals, and much more besides, and start all of the developing countries that are willing on the path to sustainable (tricky, that, but that's for another day) economic parity.
As long as it is profit on all sides, as in a genuine Free Market, and not profit extracted from the public against its will, as in Laissez-Faire Capitalism, which is currently masquerading as Free Trade. Free for corporations but not for citizens doesn't cut it in reality, and citizens shouldn't stand still for it.
Profit is not Evil
The most fundamental principle of Free Markets, even before the principle of equilibrium of supply and demand, is that in an unforced transaction, both sides gain. I sell you, or trade you, something I don't need in exchange for something I want more, and you do the same on the other side.
You get something that has a greater value for you than for me, at a cost somewhere in between. So we both make a profit, because we each get a value to ourselves greater than the value of what we offer in exchange. This is kindergarten economics, at the level of the classic Lemonade Stand game. (We can talk about how to teach it in kindergarten another time.)
In fact, one of the most important functions of the XO is to bring people into markets that were previously closed to them, to give them the means of production for the information age, to enable them to collaborate, and in so many other ways to trigger a previously unimaginable wave of economic and social development.
I am well aware that some of my readers and some of the armchair analysts cannot imagine this. I am certain that I cannot convince some of them. However, I expect that events soon will speak on this matter far louder than any of our words.