After almost 2 years OLPC released the first officially signed new build for the XO-1 (and XO-1.5), os850. So if you are still running official OLPC builds (os656/os802) and never bothered with developers keys etc, here is a build that will breathe new life into your XO-1.
The build is Fedora-11 based and comes with dual boot, Sugar and Gnome, eg is a "Best OS image ever" class build. However in this case installation is much simpler:
How to install signed build os850 of release 10.1.2 on XO-1
The build is installed to the internal NAND flash device. You will need a USB memory stick of at least 1Gb capacity, but only for the duration of the installation.
ALL USER DATA WILL BE ERASED FROM THE LAPTOP!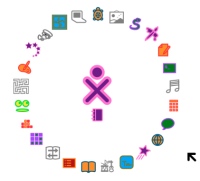 Prepare the USB memory stick:

Download os850.img,

Save the file to the top directory of a USB memory stick,

Download os850.img.fs.zip,

Save the file to the top directory of a USB memory stick,

Rename the file to fs.zip, <--- key step!

Check the USB memory stick contains at least the two files fs.zip and os850.img.

Prepare the laptop:

Make a copy of any data you wish to keep,

Ensure the battery is in the laptop,

Connect the laptop to external power,

Turn off the laptop, unless it is already off.

Insert the USB memory stick into any USB port on the laptop,

Start installing:

Hold down all four game keys (see this in pictures),

Turn on the laptop,

Wait for the message Release the game keys to continue,

Release the game keys.

Installation progress will be displayed. Green colour will fill grey blocks. It will take about five minutes. Once finished, the laptop will reboot automatically. Remove the USB memory stick during or after the reboot. The USB memory stick can be used on other laptops.
You can even upgrade to this build if you are running os767/os802. There are some caveats in upgrading but nothing unusual, and you get to keep all your data too or even go back to your old build!
This is a "release candidate" build which means one or more additional ones will come before the "final", depending on YOUR testing. The build is very solid but the more people use it the more likely bugs will be identified and hopefully squashed out before the final.
So please install, test and report.
If you have any trouble, you can get help and advice on the OLPC News Forum.