First Microsoft agents spread the word among the Ministry circles who will make the laptop purchase decision, that they certainly shouldn't commit to a product which hasn't got Windows on it.
The recipients of this message are not technologists (at least not active ones) and apply their well-honed political judgment to this statement. Remember, IBM ruled the world under the slogan "nobody ever got fired for buying IBM".
Faced with sales resistance (not just from the Microsoft issue, but also from intellectual honesty and healthy skepticism), Nicholas Negroponte agrees to open the door to Windows by adding the SD slot. "It's just a little bit of unimportant hardware" is the rationalization.
Then Microsoft ports a version of XP to the XO using the slot or the new BTest-3 hardware. Sales begin to move now that the FUD factor is addressed. Unsurprisingly, the OLPC XO performs poorly with XP, compared with alternatives (Classmate PC or whatever). After shipments begin, the performance deficit begins to be obvious and the orders slack off.
Due to the long procurement cycles of education ministries, this takes almost a year. Meanwhile the XO gets the reputation as being the underpowered machine that has failed. It becomes a pariah among administrators who had risked their careers on it. No amount of protests by OLPC that the true power of XO has never been realized will move them. They have swallowed the bait and gotten burned (admittedly, a mixed metaphor), and will have nothing further to do with OLPC.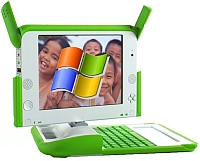 The key to all this is swallowing the bait - the acceptance by Ministry of Education officials of the supposed necessity to accommodate Windows, lest they be perceived as stepping outside accepted orthodoxy thus making themselves vulnerable to criticism - the one cardinal sin to be avoided at all costs when dealing with political administrators.
Geeks don't understand the power of the fear of criticism among politicians, given our propensity to flame freely and think nothing of it.
The only thing that would prevent this scenario from unfolding would be to build an interest base among educators in the intended participating countries to provide counter-pressure or, better, support for a non-Microsoft option with their political officials. And this is the one thing that One Laptop Per Child has disdained to do.
It remains, therefore, to build such a platform of support outside of OLPC. Not an easy task, given that there is no charismatic leader (and I'm certainly not a candidate) nor even an agreed-upon platform. But if the platform can be developed in free discussion, debate and experimentation then the necessary leadership can emerge.
Keep the open source open, while you're at it, or you'll have to build it all over again.