On the OLPC News XO Laptop Forum, we've had an on-going discussion about dual boot for the XO laptop, but mainly around Ubuntu and Xfce.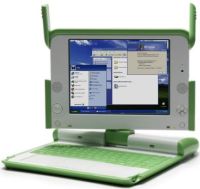 We didn't see Nicholas Negroponte's announcement of a Windows XP dual boot on the XO coming. Neither did Microsoft, according to Ina Fried:
"[James] Utzschneider said Microsoft normally wouldn't have even talked about its XO effort this early, but was concerned by statements made by Nicholas Negroponte that suggested Windows was ready to go on the XO.

"We wanted to come out and say flat out that's not the case," Utzschneider said. "Despite all of the rhetoric, we don't think we can have a production version until the second half of 2008.""
But Microsoft
is
in fact working on putting XO on the XO, just not on a dual boot. Microsoft is designing its low-cost Windows and Office bundle to boot off a 2GB SD Card.
Let's have OLPC's Ivan Krstić explain the deeper technicalities:
Microsoft has not been working on an actual, side-by-side dual-boot system. We're jointly making it possible to install XP on an arbitrary XO — subject to the constraints of the Bitfrost theft deterrence system — and then convert the machine back to Linux easily. I have made it clear that the XP port will not receive my security signoff without this Linux rollback feature, and have no reason to believe it won't be implemented.
But that's not all. Apparently Microsoft is writing about 10 different hardware drivers to integrating OLPC's clock-stopping hot technologies too: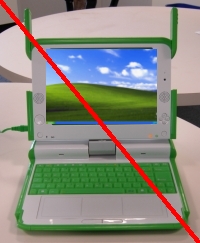 My opinion: No XP! What's yours?
They did not set out merely to make XP boot on the XO and declare victory; they actually want to partake in as much of our learning philosophy as they can. They won't make XP open source, but they're building mesh support, going to great lengths to support our security and theft deterrence model, and working on allowing Sugar and Windows XOs to collaborate and share seamlessly.
This raises so many interesting question, both around the technical aspects as well as the political ones. And since the two often get intermingled in the comments section of blog posts, I'm going to try an experiment with this hot-button issue: divide up the conversation between electrons and emotions and put it to the forum:
Now go have at it on the forum - the comments on this post are closed.