Now that One Laptop per Child (OLPC) has announced that the first 1,000 XO laptops have rolled off the assembly line at Quanta Computer's Changshu, production facility, we want one! We want one so bad; we're willing to buy an OLPC now!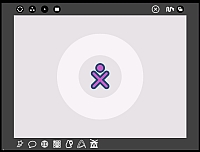 Sugar UI emulation video
Unfortunately, that will have to wait until there are Children's Machines on eBay, but until then, we can all get a little closer to our newest green friend: we can emulate the OLPC Sugar interface on Windows or Mac.
For those of us shackled to Microsoft bloatware, Tom Hoffman has step by step instructions to emulate the OLPC XO on Windows.
As with everything Microsoft, don't think this will be an easy or free experience. To quote Tom:
In particular, I went through some gyrations to make an "appliance" that would work out of the box with VMware Player on Windows. You can use VMware player at no cost, but it is not free software; if you're doing this on Windows anyhow, presumably you aren't a stickler for such things.
Now if you are using Apple's clean Mac interface, for once, you're not left out of the cool new software. Thanks to Edgar Gonzalez, you can
emulate the OLPC XO on a Mac (OSX)
. Do note the difference in instructions:
Here are the 3 steps for emulating OLPC XO on a mac:
1.- unzip the olpc image
2.- double click on the olpc.vmx file
3.- there's no step 3 ….. (it's a mac)
If you are too technically challenged to follow either instruction path, then you can just watch Harry Brignull explore the UI in his
short video of the OLPC UI action
.
None are as amazing or full featured as the actual OLPC laptop, but we'll all have to wait for that joy.