Back in December, Christophe Guéret posted an introduction to the project SemanticXO, where he sought to create a Semantic Web for children using XO laptops. He says: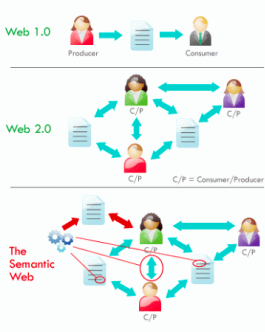 Learning a foreign language, getting an introduction to reading/writting or preserving/revive an endangered/extinct language are among the possible usages of these XOs. Such activities could take a significant benefit from a storage layer optimised for multi-lingual and loosely structured data.

One of the building block of the Semantic Web, the "Triple Store", is such a data storage service. A triple store is like a database engine optimised to store and provide access to triples, atomic statements binding together a subject a predicate and an object. For instance, . And these two triples would define two different names for two different languages: , .

SemanticXO is a new project from the contributor program aimed at adding a triple store and a front-end API on the XOs' operating system. This triple store will extend the functionalities of Sugar with the possibility for all activities to store loosely structured/multilingual data and easily connect information across activities. In plus, the SPARQL protocol will allow for an easy access to the data stored on any device.
To be honest, I'm not sure what that really means. Is this a database project? Is it to help translation of the Sugar User Interface? Or are children somehow to use SemanticXO in their language acquisition?
Regardless of its purpose, it seems that SemanticXO development has come to a halt. The only other post from Christophe Guéret detailed RedStore running on the XO, where he noted the challenges of installing a TripleStore on an XO using RedStore, namely that RedStore depends on some external libraries that are not yet packaged for Fedora11 and since it's not so easy to compile directly on the XO, a second computer is required. Once installed, the XO didn't return queries quickly. The XO failed on a number of benchmark different triple stores, even after being executed over a full night.
So Christophe, what does this mean? Is a Semantic Web for children using the XO possible?