The LISP (LISt Processing) programming language is relevant to OLPC's XO laptop because, like an iPhone or smart phone, it has very limited resources and is not a full sized computer. The LISP community came up with software for biology called BioBike. It is 3 things:
An environment where people can learn about the genome of different plants and animals and at an advanced level conduct their own research in a contructionist like way.
A Visual Programming language for non-programmers that has an uncanny resemblance to Scratch.
An application that runs on smart phones like the iPhone
The BioBike language is a close cousin to Scratch, and BioBike fosters self learning. OLPC can use this as an example--like an OLPC Sugar for adults.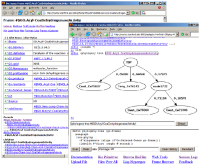 In addition, the LISP developer community also figured out how to put contemporary LISP software (compiled and interpreted) on old (like 20 years old) computers. You can get 2009 LISP software for your aging Atari machine. Such an approach allows people in poor areas to reuse old computers that rich communities just throw away.
The Python programming language community figured out how to put up-to-date Python programs and Python interpreters on old (like first generation) iPods. This has the same advantage as the LISP on your junk-yard Atari. It is taking stuff that the rich people think is trash and using it in new and productive ways. The under developed nations get old computers anyway, but they are putting them in toxic waste dumps. Most western teens do not want an iPod from 2001, and this Python interpreter allows them to be reused in a productive way.
Field Programming Gate Arrays allow people to put a computer on a chip. You can get FPGAs to emulate any computer. There is an American company in Colorado called "Migration Specialties" that uses FPGAs for people that want use their old DEC VAX, Burroughs, or UNIVAC software (computers from the 60s, 70s, and 80s). One way of reducing costs would be for children and adults (like the parents I guess) to share a computer.
The child's FPGA would house the Sugar environment and the parent's FPGAs could house stuff the parents could use for work or something. When they plug the FPGA into the computer's motherboard it becomes their computer. The example that I saw allowed people to switch between Windows Vista PC and DEC VAX VMS (a mainframe from the 1970s). The cost of Migration Specialties' products is in recreating the old Operating System and CPU. The FPGA chips themselves are inexpensive.
I think OLPC may have become too hardwhere-centric. These approaches allow education to continue even in the face of hardware challenges. I've seen 2009 LISP software on a Samsung cell phone (a regular cell phone not a smart phone) and a Palm Pilot from 1998. The Python stuff on the 2001 iPod was also interesting.
You don't need state-of-the-art hardware; you just need state-of-the-art software with a very small foot print (no bloatware)