New extensions to the eXe learning platform, recently developed by our team in Afghanistan, make it possible to create interactive educational content in minutes that can be exported as XOL library files or HTML / Javascript, for use in any web browser.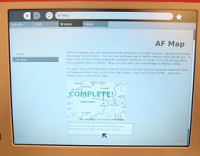 XO eXe activity running
It provides a point and click graphical interface to create a variety of different interaction formats, such as; sorting, assembly of parts, hangman games, moving object speed answer games point in click / find quizzes, and more.
Here are screenshots of the new extensions in action. The he result is exported as an .xol file and working the next minute on an XO.
Development is still very much a work in progress, and suggestions and contributions are welcome.  For details see the Paiwastoon project page.