While Satastic doesn't have the latest prices, the OLPC laptop is now estimated to be $140, not $100 dollars per laptop, Satastic did do a very interesting comparison of $100 for different countries targeted by the One Laptop Per Child project.
Using per capita GDP, Statastic, made this handy-dandy chart to show how much a $100 dollar laptop would really be worth to a family in the developing world: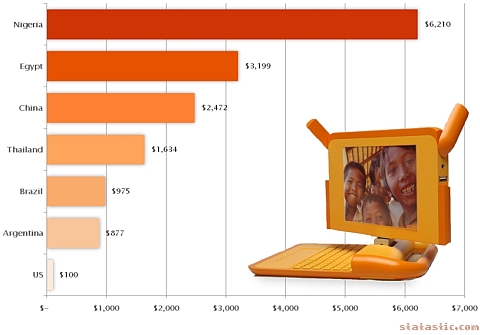 Kinda brings it home in a graphic sense, eh? Now listen to Statastic give it relevance:
$100 in Nigeria is the equal to nearly two months income. To give Americans a sense of how much $100 is to the average Nigerian, imagine sending your 8 year old to school with a $6,000 laptop.

Now imagine living in a country with an epidemic of corruption, in a shanty with no electricity or running water. If laptops were selling for $300 in developed nations, it would provide a strong, and unfortunate, incentive for Nigerian parents to sell their children's laptops.
You couldn't be more right, Statatic. I know that I, for one, will be looking for an eBay OLPC the day they ship, and I know I'll not be disappointed.
Oh and don't think Nicholas Negroponte is worried about it. Last year he even said that theft was an acceptable distribution method. I wonder if wholesale resale is another one too?
KEYWORDS:
One Laptop Per Child | $100 Dollar Laptop | per capita GDP | Laptop