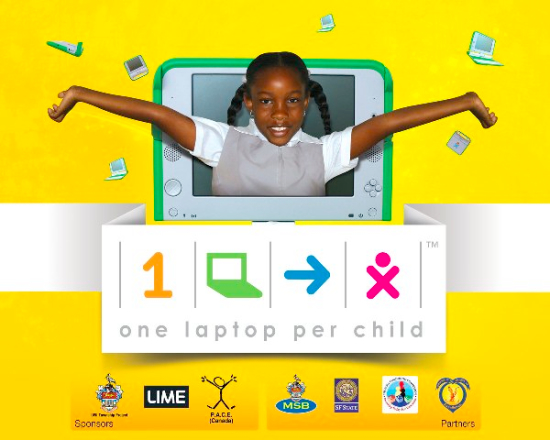 OLPC Jamaica is a general interest group for the One Laptop per Child initiatives in Jamaica. The group started at the University of the West Indies (UWI), Mona Campus, Jamaica in 2008.
Compelled by the belief that the OLPC has considerable potential for enhancing the efficient delivery, and improved pedagogy in early childhood education in Jamaica, OLPC Jamaica intends to foster interest, generate ideas and learn from experiences about OLPC both on the UWI campus and in its neighboring communities.

The Group is currently embarked on deployment pilots of the OLPC concept in two local schools:
Forty (40) XO laptops at the August Town Primary School, located in the heart of the August Town community in the University's Township neighborhood
Seventy-five (75) XO laptops to the Providence Methodist Basic school, located on the premises of the Providence Methodist Church in Liguanea
Miss Nadine Muschette, a Lecturer at
Moneague College
, the dynamic catalyst behind Moneague's OLPC initiative, highlighted the following primary objectives of the program:
Expose teacher educators and student teachers (the next cohort of class teachers) to the XO laptops and software for use in the teaching and learning process
Provide the tools for the practical completion of the Technology in Education course objectives for the target group of student teachers
Provide an incentive and equipment for student teachers to propose and execute technology/computer centred final year teaching practice projects
Contribute to the bank of Sugar lesson plans and videos being developed as part of UWI's OLPC initiative
Assist the OLPC Jamaica Team with teacher training for their projects at Providence Basic and August Town Primary schools.
The partnership with Moneague College is a critical component for the sustainable success of the OLPC Jamaica projects as other deployments have demonstrated unequivocally, that effective teacher training is one of the most important, complex, and resource-intensive parts of any successful ICT for Education project.
Principal sponsors include the Programme for Advance Childhood Education (PACE) of Canada, the UWI's University Township Project, and Lime Jamaica. Other key partners include the Early Childhood Commission, Moneague College and OLPC San Francisco. Lime Jamaica coming on board with a donation of J$1 Million to support the sustainability of the program.
In his introductory remarks, Dr. Mc Naughton stated that the idea of adopting the One Laptop per Child (OLPC) programme came out of the MSB's close affiliation with Dr. Sameer Verma of San Francisco State University, who was actively involved with the worldwide OLPC program