Hey, it's Christoph Derndorfer from OLPC Austria speaking. It's been quite some time since I've last submitted a story but I'll do my best to come up with more articles in the foreseeable future.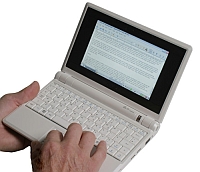 The reason why I'm writing these lines is that the first reviews of the the Asus eee PC have recently been published and so I feel it's a good time to take a look at the current state of things.
I don't think it's really necessary to introduce the Asus eee PC to anyone reading this website. However if I had to explain the eee PC in one sentence I'd probably say something along the lines of
"it's Asus' first shot at the utlra low-cost notebook market"
With that sentence we're already at one of the core topics surrounding that white little fella. It's obvious to anyone that the four different eee PC 701 models announced up to now (though from what I gather only one of them is readily available at the moment) are only the start and we're very likely to see more variations, updated models and eee PC v2s in the foreseeable future.
As previously highlighted in Wayan's story the main differences between the various models are the size of the RAM (256MB to 1GB), the size of the flash mass-storage (2GB to 8GB), the camera and the batteries. Compare that to the OLPC project and its "one size fits all" approach and you'll realize that Asus offers more choice, both in terms of the hardware and the price per unit.
Don't get me wrong, I'm fairly convinced that OLPC and Quanta would be more than happy to offer built-to-order options once an entity (be it a country or Coca Cola on a CSR trip) purchases a certain amount of X0s. Say Brazil only agrees to buy X0s if their units come with 2GB of flash. If I were OLPC or Quanta I'd ask them to pay the additional cost and happily send out a press release telling everyone that another country has just signed on.
Having that single product made sense back when Negroponte still believed that everyone would be more than happy to buy 1 million X0s per purchase. But these time they're changing and today with G1G1, give many and minimum purchase quantities basically having being eliminated things are very different. Today OLPC might only be competing with Asus but 6...12...18 months from now there'll be even more choice when it comes to low-cost computing solutions for both the developing and the developed world.
And while Intel will be quietly trying to make the X0-2 a device that has Intel inside many other companies will be working on similar products. The reason for that development is that OLPC was a real wake-up call for anyone in the ICT industry. It made many people realize that low-cost computing is a huge market that most companies were happy to ignore in the past. It's not that hard to imagine that 2 or 3 years down the road other major players such as Dell, HP and Acer will have joined Asus in the race to sell products to the next billion users.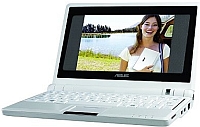 Now what else is different if you compare the Eee PC and the X0? For one thing Microsoft seems to have less trouble getting Windows to run on the 701 because apparently they're working on a slimmed-down Vista that's specifically targeted at that machine. (At least that's what the rumour mill is saying.) Plus Asus is already offering Windows XP drivers and soon we're going to see 701s being delivered with a pre-installed WinXP.
Again, don't get me wrong: I don't think that running Vista (or anything close to it) on a 900MHz CPU with less than 2GB of RAM is going to be any fun. But according to various news reports that's only the first step in Microsoft's current quest when it comes to finding a more healthy Windows-diet. In mid-October it was reported that project "MinWin" isn't quite ready at the moment but could be a core component of the upcoming Windows 7 (formerly codenamed Vienna).
Now if you look at the big picture this indicates that going forward Microsoft also believes in slimmer and more targeted operating systems. Today Vista a la eee, tomorrow Vista a la classmate and afterwards... Vista a la X0-2? Again what I'm trying to say here is that people are realizing that the market for low-cost computing solution is so huge and varied that there'll be plenty of opportunities for different approaches on the operating system level. Which again means more choices for customers.
Another aspect of the eee PC project that hardly gets mentioned is that Asus seems to be very active when it comes to cooperation with the open-source world. According to the latest edition of Walter Bender's community-news this week OLPC is flying out Mike Fletcher to Taiwan to attend a FOSS conference and also meet up with lead eee PC developers. As he puts it on his blog:
"Asus will be presenting their EEEpc and their plans for creating a developer program around the platform. We really need to make sure that we're not duplicating effort across the platforms, and that the software and content used when going into schools is compatible."
which seems to be build on the Xandros distribution. Others might opt for WindowsXP. And the last guy may even go with Edubuntu. Again I think it's important to offer a variety of choices because that's what the market is going to demand.
In the end what I'm trying to say here is that the Asus eee PC project gives us a good glimpse of where things might be heading in the future when it comes to low-cost computing. Having said that I'm still convinced that the X0 is currently the best computing device for educating children in the developing world. And OLPC will always be remembered for making the world aware of the demand for low-cost computing.
However Asus and others are quickly learning and catching up and soon they will have great devices for a variety of other low-cost ICT requirements. And I'm sure that OLPC could learn another trick or two from them...