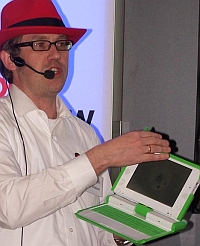 Jan Wildeboer of Red Hat Germany
Ever since I saw the first design-studies and later photos of the One Laptop Per Child machines now called X0 I wanted to see one in person. Fortunately I finally had a chance to do that during the CeBIT tradeshow in Hannover last week.
The Children's Machine X0 was being presented at the Red Hat booth and Jan Wildeboer from Red Hat Germany also held a short presentation during the "open day" at the Heise stage.
The very first impression I had was that the laptop was a bit smaller than I had expected it to be. While I knew that the display is 7.5" I had still expected it to be larger. But it only took a second or so for those thoughts to be gone because I was busy drooling over the X0's display.
Now again, I had seen the videos, I had seen the photos, I had read the specifications and I knew that everyone who had seen the dual mode display found it to be amazing. So one might say that I had high expectations. But the X0 easily managed to top them, the screen really is that spectacular.
After playing around with the system for 15 minutes none of those 108" LCDs or Plasmas shown at CeBIT were of any interest to me. And I nearly started crying when I used my own laptop again. So yes, I'm also going to cheer in with the rest of the folks who absolutely love that 7.5" Dual-mode TFT display. Unfortunately I didn't find a way to enable the reflective monochrome mode so my experience is based on the regular color mode.
One last note about the hardware itself: when I lifted the unit to see how heavy it was I found the weight distribution of the machine a bit uncomfortable. Obviously the heaviest parts are the battery backs and there's little OLPC or Quanta Computercan do to change that. The weight doesn't really matter during normal "desktop" operating when the X0 is placed on surface. But I found it quite hard to comfortably hold the system with one hand only while it was folded into tablet mode.
Next I proceeded to experiment with the XO keyboard and the touchpad to see how the computer's primary input devices work. First I have to say that the touchpad seemed better than on most other notebooks that I've used.
It's very hard to pin-point the reason but there some touchpad solutions (like on the MacBooks for example) that simply work while others (e.g. the one on the Fujitsu-Siemens notebook that I'm writing these lines on) seem like a serious pain to use. I was happy to find that the X0's touchpad belongs to the first group. In terms of the keyboard it was very hard to make a definite judgment.
As you probably know the X0 uses a washable rubber-membrane keyboard. The size of the keys is obviously smaller than on a regular notebook given that the target users are children. Whenever I look at a notebook in a store I try to type the phrase "this is a test to see how well the keyboard works" as quickly as possible.
That normally gives me a good impression of how well I get along with a keyboard without any training. Well, as you can see here I managed to do quite well in AbiWord. However I did find the keys to be a bit "wobbly" and for users with previous experience on regular keyboards it will probably take some time to get used to the new typing feel.
Last but not least I moved on to try and gauge the Sugar interface. Unfortunately the software version installed on that particular sample seemed to be quite old as it was extremely slow and unresponsive at times. It often took close to 40 seconds to start or switch between applications. This also made using the so-called "Home View" which shows you the currently running activities less fun.
The applications themselves seemed to work very well. AbiWord was very convenient to use and I certainly liked the minimalistic interface. The web browser (not sure though whether it was Firefox or Epiphany) was also a breeze to use and combined with the amazing screen surfing the web was great and worked without a flaw. All the websites I looked at were nicely scaled to the screen.
Unfortunately I forgot to test how well the OLPC X0 copes with complicated websites using Flash or providing video content. I also had a quick look at the RSS reader which also worked as advertised.
Well, what can I say after my short hands-on experience? In terms of the hardware the Children's Machine X0 is an outstanding device and unlike any other laptop that I've previously used. It is even cooler than what I had expected it to be. (And I also didn't have any trouble opening the X0.)
With regards to the operating system software I think it is too early to make any definite judgments in either direction. There's many reasons to believe that Sugar might be the best in terms user interface design for people with without or very limited previous exposure to computer systems.
Of course there's also a couple of arguments claiming that Sugar should be dropped in favour of a more traditional desktop system. Personally I believe that Sugar can be an amazing environment if the OLPC does some serious user interface testing and also listens closely to the feedback from testing in Thailand.