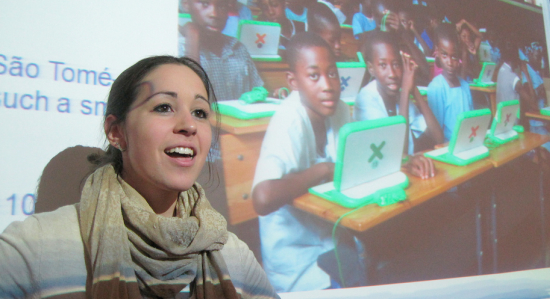 Beth Santos: an OLPCorps Savior
One year ago, OLPC announced that OLPCorps 2010 opportunities were available. University students and young adults would have opportunities to support One Laptop Per Child in one of five regions: Haiti, Mali, Cameroon, Afghanistan, and the Palestinian Occupied Territories.
Yet over 2010, the only news I heard about OLPCorps deployments was Beth Santos' continued valiant efforts with Step Up OLPC in São Tomé and Príncipe - her second year investing in XO's for children abandoned by a previous OLPCorps intervention.
There was no other news on OLPCorps in any of the target regions, in fact, no news about OLPCorps at all!
So what happened to OLPCorps in 2010? Did the program fail for lack of interest in one-year commitments? Were there not enough recipient organizations for the volunteers? Did the equally mysterious OLPC Internship program take over from OLPCorps?
Or (and my bet) did OLPCorps and OLPC Internships die a quiet death due to shifting internal priorities at One Laptop Per Child?