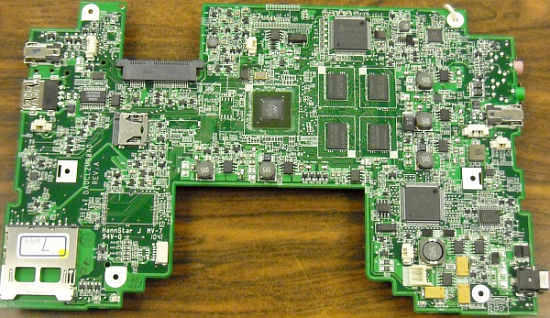 XO-1.75 laptop A1 bare circuit board with ARM processor
Edward McNierney, chief technology officer of One Laptop Per Child showed off the XO-1.75 XO laptop at the International Consumer Electronics Show in Las Vegas, according to ComputerWorld. The XO-1.75 has two innovations:
The XO-1.75 is the first OLPC laptop to use ARM chips, an 1GHz Armada 610 chip from Marvell Technology, reducing power consumption by half - to just 2-watts
The XO-1.75 will have a 8.9-inch touchscreen, so children can use their fingers instead of a jumpy mouse or delicate keyboard to interact with the XO
Of the two innovations, the ARM processor may be the most innovative. With Negroponte rightly predicting that Microsoft would put Windows on ARM, OLPC is just ahead of the coming power curve where low-power ARM laptops will become mainstream.