Welcome back! In our 3rd post of our series on the efforts of OLPC, Santa Barbara, we will discuss the ways that the XO's have been used as learning tools our local 3rd grade classroom. Lets jump right into it...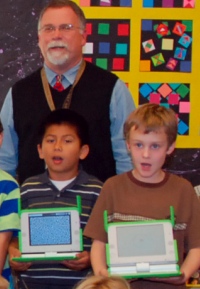 The key to our success: a teacher
Providing The Learning Tool
As I mentioned in our last post, fortunately for us, our teacher is great proponent of using technology as an educational tool in the classroom. Because of this, we have not imposed any learning strategies or tools upon him. We came to this decision because we were are aware of the effects trying to push something that is unwanted or not tailored to specific circumstances- it just won't work!
We decided that since our teacher knew the machine, it's programs and capabilities, and knows the California 3rd grade curriculum the best, he should decide how was wants to use them, and we must observe, offering opinions and suggestions only when appropriate.
He has been essentially on his own directive, with us standing by observing and offering support as needed. The students typically have around two to three hours a week with the XO, and have done some really neat things with it. The Turtle Art program has been incorporated into their Geometry lessons with great success. Our teacher has asked them to adjust the numbers of the angles to draw first 90 degree angles, then overlap other angles over it, to create intricate shapes and patterns. With the ability of the students to simply change a number and visually see a new angle drawn out in front of them, it has helped them grasp their simple geometry lessons with ease.
They have used the Browse and Write applications to collaborate on and submit research projects, and the Moon application to study the cycles of the moon (part of the California 3rd grade curriculum). They have also had ample time for self exploration, playing and using the rest of the XO activities
Unfortunately, as all our initial efforts focused on establishing the pilot classroom and the international program, OLPCsb has not yet developed an application to be used in the classroom. However, we now have commenced work on activities, with our first project being a vocabulary-based reading comprehension activity.
This will essentially aid reading by helping the child attain a larger inventory of relevant vocabulary. In plain English, it's easier to focus on what the story text means when you don't have to spend all your focus on figuring out what a word means. This was inspired by a tutoring/research program done in the UCSB education department, a program which we found when one of our members became involved as a tutor.
This "reading buddy" activity is being further developed conceptually as our members from Computer Science and Engineering departments commence work on the programming aspect of the work, and it is our hope that this can be done in a variety of languages in the future.
That's all for now, but join us next week as we get into our International Partnership Program, and some of the situations that have arisen in solidifying an international partner school!