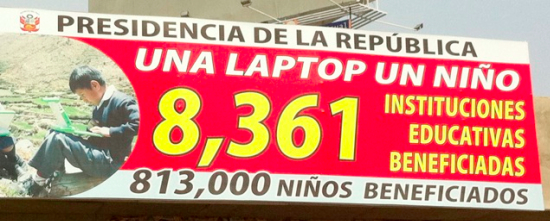 OLPC Peru is moving forward with an expanded deployment, even if Christoph Derndorfer found it a Problematic Una Laptop Por Niño Program. As you can see in the billboard above, they will deploy 813,000 XO laptops to 8,361 educational institutions.
But this will not be a uniform 1:1 computer to child saturation. As Oscar Becerra explains, these will be Technology Resource Centers with:
A group of XO laptops enough to allow individual work by children at least two hours a week during class time and free access during off school hours. The XO is a versatile tool that enables them to use individual learning styles, offering a variety of learning applications, ranging from visual tools (still-image and motion camera with sound recording) to advanced programming environments of easy usage, to sophisticated music production software that is accessible to children as young as 5 years old.

The laptops' collaborative tools and immediate networking capabilities foster cooperation among students and between them and their teachers, thus contributing to raise students' self-esteem and social skills. As mentioned earlier each of the 1.7 million students in connected schools will have an individual environment defined in the Internet Cloud (we use Google Apps and Microsoft Life@edu). Non connected students will have their environments defined at the "local cloud" residing in a school server.


One Educational Robotics module enough for a group of 16-20, allowing children to work in teams of 4-5 kids sharing one computer. The idea is children will enjoy building models while learning teamwork and curriculum matters will be built into the construction process. Sensors will allow to explore science in a recreational way.


One server to function as the "local cloud" and access point to Internet where connectivity is available. The offline portal is loaded at the server where there is no connectivity.


One conventional laptop and a multimedia projector to allow teachers to project contents when required.
The strategy is completed with Technology Resource Centers being provided to every public higher education institution in order for them to provide pedagogical and technical support. The Technology Resource Centers will also leverage local government initiatives, like the one in place at Los Olivos where children produce TV programs that are broadcasted through Internet.
By mid 2011, more than 800,000 XO laptops equipped with webcams will have been deployed so the 1,7 million children in connected schools, the Los Olivos pioneering experience of learning through video producing will be expanded nationwide.