On April 18 fellow blogger Michael Hutak published a note in the OLPC.Oceania blog pointing to the Australian Council for Educational Research(ACER) report on a 15-month-old deployment in the Solomon Islands.
New Solomons study puts hard evidence of OLPC's positive impact
An independent evaluation commissioned by the Solomon Islands Government (SIG) of the OLPC pilot projects in the remote Western Province has boosted calls to expand the program in the country and across the Pacific.
The full article is here, yet I beg to differ this is hard evidence.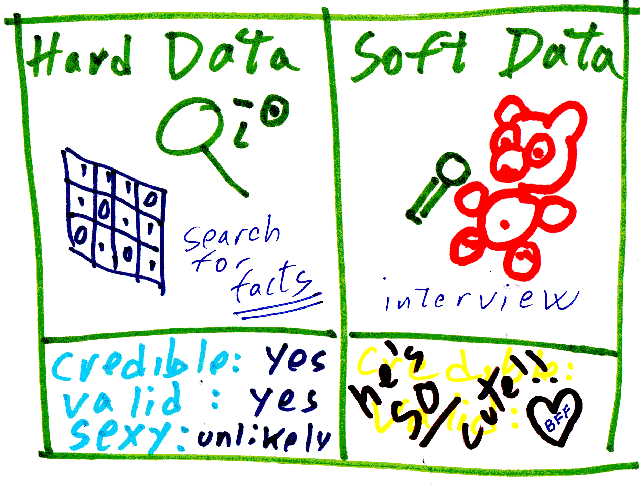 "Hard evidence" means reproducible, objective data
What these guys have is soft and cuddly evidence, and presenting this kind of data as real research is core to OLPC's problem of credibility. AFAIK there is only one study ever done in OLPC matters that used objective data, and so far has been buried for almost a year (I am preparing a post on that).
All other "evaluations" I've seen, except that one, used surveys. It is very, very hard to get any sort of validity out of surveys, I should know, I do contract work in that field.
It is very easy to have surveys say something nice about the client, "independent" survey or not, and it could be disputed whether the ACER is actually independent on the goings-on of OLPC in the Pacific. The reason I can sleep at night is because so far my clients do care for real data, since their businesses hang on it.
They'd rather hear the bad and so-so news, so they can change things to be better for their clients. Good news is gravy to them, not what they really worry about when things get difficult, like right now things are in the US economy. Or like how things are for OLPC...
Why can't we see things that way? Why do we *pretend* all is rosy, when by listening, sharing and fixing a few problems we actually could have a chance to do something that *is* good, not just looks somewhat good to those who already have their pink sunglasses on?
Since our business model so far mostly hangs on goodwill and old friends, I guess we are too used to think we can get away with "feel good" reports that don't tell facts, they merely share other "feel good" stories. Not that there aren't good things to share, yes, we have success stories, we can and should communicate and make them known, but to get credibility we mainly do need "hard data", of which we have very little published.
Hard data is what all funding agencies ask for, and its dire absence the simplest excuse they need, to send us away empty handed.
Getting Hard Data
Hard data can come from Journal data mining. Grades. Testing results. Teacher logs. Server logs. Maintenance logs.
I do not blame the big funding agencies for staying away from supporting us. They have been gullible and burned too many times already to just take feel-good surveys as evidence of success. I know, some types of good, valid research often take time, sometimes it can get expensive, and certainly requires skill, and mostly the desire to tell the truth as it is.
Yet some data is already available, like maintenance logs. AFAIK, those exists (Wad said so) but their detailed content has never been made public, though it is often insisted XO laptops require very little maintenance. What websites are accessed is a simple matter of dumping the server logs, also AFAIK, except for one study in Argentina, never published. Neither needs much time or money, and the skill is available if the raw data were made accessible. What is missing, then?
All in all, this Solomon Islands thing looks like another infomercial, sorry, nice try. Please, can we have some objective data next time?