I was of course also keen to hear where pupils and teachers had encountered issues. The most widespread complaint we heard was related to a known bug with the sound being sporadically being muted for which the software version we were installing contained a work-around. We also discovered two problems with the Nepali translation which were promptly fixed upon our return to Kathmandu.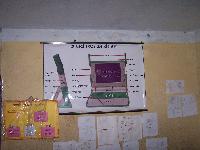 XO-1 explained
Another problem we heard was that a pupil had accidently deleted the EPaath activity from his XO. Since issues with deleted activites have been reported from other schools (both in Nepal and elsewhere) as well the upcoming Sugar version will make it harder to accidently remove software.
With regard to hardware issues we only ran into two XOs with broken keyboards and one XO with a broken NAND. However especially while preparing to update the XOs I realized that charging 30 or 40 XOs in a single classroom can be quite a challenge. OLE Nepal does provide special charging racks for each classroom however sometimes the plugs don't work perfectly so you have to be careful that indeed all XOs are powered during the update process. Of course it also wouldn't be Nepal if we hadn't been hit by a power outage, luckily by that time almost all XOs has been upgraded and the remaining few had enough battery power to complete the procedure.
In terms of infrastructure each classroom had an access point and each school is provided with an MSI Wind based school server that among other things contains OLE Nepal's E-Pustakalaya digital library. In the first school however the school server wasn't running due to an issue with their UPS. Since we weren't able to fix it on the spot the networking team was informed about the issue and will solve it during their next visit to the school. In the second school the only thing that wasn't working was an access point which will also be replaced by the networking team in the near future.
All in all the day long visit was really an eye-opening experience and has given me a much better understanding of how XOs are actually being used in schools here in Nepal. It has also helped me grasp the very real challenges that One Laptop per Child and organizations such as OLE Nepal have to deal with in deployments.
Seeing technologies such as XO's NANDblast in action and feedback such as the one about accidentally deleted activities being swiftly addressed by Sugar developers is very encouraging in terms of being important steps into the right direction. At the same time there's no doubt in my mind that a lot still needs to be done and we definitely won't be bored in the foreseeable future.
My volunteering partner in crime Daniel Drake wrote up his early impressions from Nepal on his blog.