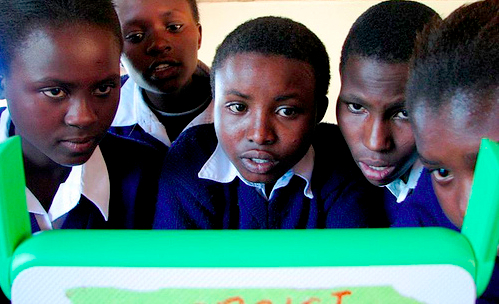 UCC students' Ntugi school collaboration Flickr set, blog, and videos
On my own behalf and on behalf of Ntugi Mixed Day School let me thank Upper Canada College and Mark Battley in particular for helping the school to get XO laptops. The laptops have boosted the morale of both students and teachers in the school.

Some parents have transferred their kids from the neighbouring schools to our school because we are the only secondary school connected to Internet. This has raised the school enrollment from 4 classes to 6 classes. Students are using them, especially in Science and Geography. In the 2009 Science Congress, two projects scooped the best 2 positions in the District and were ranked No. 9 and 10 out of 102 in the Provincials. Previously, no Ntugi student had participated in Science Congress.
The laptops have also improved games in the school. Students have learned rules and coaching techniques. In basketball, they are always browsing for NBA and this has assisted out basketball girls' team to emerge 3rd in the district. The teams are gaining more confidence as they familiarize themselves with the games techniques.
The performance in the National exams has also improved greatly. In 2008, the school was No.17 in the district. After introduction to the use of computers in March 2009, the school moved to position 8 out of 42 schools which did the National exam in the district. In 2009, form four class used the laptops to browse for the past papers (National exams). This enabled them to perform extremely well.
Teachers and students now apply for jobs and colleges online. All teachers and almost 1/2 of the students' population have e-mails. Teachers and students use Facebook during their leisure time. After introduction of computers, two teachers have been encouraged to join higher institutions of learning. Mr. Moses Kimathi is doing Masters Degree at Chuka University College and Mrs. Florence Kaburu is at Kenya Methodist University for degree in Counseling and Education. They are always with the laptops for their research work.
The Kenya National Examination Council has started registering students for the National exams online. Schools without Internet facilities are greatly challenged. As the Head of Ntugi Secondary School, I feel very humbled for this donation (laptops) as it has made my work very easy when registering students for the National exams. (K.C.S.E).
The demand for the use of computers is so great by Ntugi and its surrounding community. Parents have been requesting for computer classes but we are limited by lack of room and more computers. Both teachers and students are very willing to teach our neighbouring primary schools, especially Subuiga Primary, the use of computers. For these outreach goals, we are seeking to build a computer lab & a community outreach centre. Apart from lack of computer lab, we are also seeking to expand our solar power capacity. During rainy seasons, the power goes down due to lack of enough sunlight.
The school thanks all those who have contributed to help change the face of Ntugi Mixed Day Secondary School. Let me appeal for more support to help us achieve our goal of contributing a new computer lab and installing more solar panels.
In collaboration with Upper Canada College & the Lewa Wildlife Conservancy, Ntugi will be a school to watch in both Academics and Co-curricular activities in future. If you'd like, you can follow us on our own Ntugi School blog.
Thanks and may God bless you.
Yours Faithfully,
Ithinji P. Mbaabu
Principal
Ntugi Mixed Day Secondary School
PO Box 3202 - 60200
Meru, Kenya