Last night, everyone who participated in the Give One Get One donation program from One Laptop Per Child received an email from Nicholas Negroponte asking for broken or unused XO laptops for Haiti.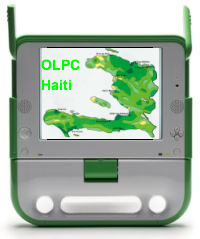 Now I'm not sure what OLPC intends to do with our old XO's, but unless they're gonna donate all their collected XO's to Waveplace Foundation, it will be a waste. Why? Because Waveplace Foundation is doing Haiti rebuilding right.
I've always thought that Timothy Falconer had a good head on his shoulders when it came to OLPC - he's been smart to cut through the hype - but I was blown away when I watched these videos this morning.
Waveplace, like OLE Nepal and Plan Ceibal Uruguay, has thankfully ignored most of 1CC"s suggestions and is implementing with local values first. Values like:
Pay Haitians a fair wage for real jobs in education
XO laptops are not a panacea - they are one part of an overall solution
Haitians helping Haitians on a dialy basis, not foreigners
All content must be local - Kreyol in Haiti's case
Better yet, watch these videos of Tim explaining Waveplace Foundation's Haiti response plan and you'll see real thought and planning on using XO's in Haiti:
As you watch these videos, note all the groundwork that's gone into Waveplace Foundation's response. Note that Waveplace has local connections, staff, and knowledge. And note that they're not gonna hand out XO's to random children, like some others wanted to do. Or to aid workers, which I fear OLPC is planning to do.
If you want to donate your XO for Haiti, don't send it to OLPC. Send it to Waveplace Foundation (cash too). They're doing Haiti response right.