I am the Director General (aka Superintendent) of a rural-urban public school board, located approximately 80 miles east of Montreal. In our public school district in Quebec, Canada, we are one of the very few educational districts in North America that has pioneered a free 1:1 laptop deployment for all students/teachers from Grades 3-11. Our territory covers an area the approximate size of Maryland. Our student population is slightly over 6500 students, of which 5600 Apple wireless laptops were provided, starting in 2003.
We have experienced everything, I believe, related to the "highs" and "lows" of integrating technology into the classroom. Our School Board, the Eastern Townships School Board, uses the provincial curriculum, socio-constructivism in approach, as the basis for integration. In almost all factors of successful deployment, we have found that one can always effectively deal with the technical issues and challenges.
The area that needs constant and consistent support is in the area of Professional Development, for both teachers and students. It is a major mistake to assume that children will simply integrate technology into their learning patterns. The natural curiosity of a child allows for exploration without fear but it does not convey specific and intrinsic learning. They still need to be taught how the laptop can make a difference.
Moving towards the educators, fear of loss of control over the learning environment represents a major issue to contend with. Also, as we discovered in our support of teachers in Uruguay, the role and "status" of a teacher is very important and there is a level of discomfort in having students outpace the teachers in learning how to use technology.

Our students do show our teachers how to problem solve in using technology and for some teachers, this brings them into a zone of discomfort. Some teachers respond well, others not as well. I can go on for pages on this matter but I hope this illustrates my reference to the "Human Factor."
One last point, in our School Board, we are very saddened by the fact that we have offered to the folks at the OLPC our experiences and understanding but to no avail. It seems that the desire to hear from "others" is not well appreciated. Nicholas Negroponte has been very gracious and sent me the contacts to OLPC deployment persons in Africa and South America, with no responses back.
But then again, in education, the sharing of Best Practices is talked about often but rarely done. Below is a brief practical guide to ensuring a successful deployment.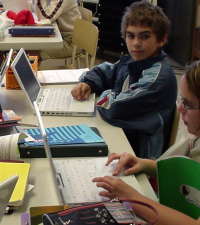 Basic Truths For a Successful Technology Integration Plan:
Education really doesn't like change, whether it is "top-down" or by "local consensus". As in any organization on this planet, you will always have 10-15% of individuals who won't like any-thing to do with change, plain and simple. So, you need to focus on the those who are willing and wanting. The Early Adapters are not, repeat, not the people that need the most of the support. You must focus on the Mid Adapters to ensure success. As for the Late Adapters, be patient!
If the technology (laptops-infrastructure) is not reliable (95% regular, sustainable
and supported), then the teachers will simply put the machines to the side. We have learnt this from experience and regardless of how much you tell the teachers that teaching with laptops is fantastic, wonderful, inspiring, it will simply not replace the fact that if the laptops or the internet connections are not reliable and working well, your deployment is in serious trouble.
The curriculum must support the integration of technology and be based on an approach that becomes transformational, in both learning and teaching contexts. Standards-based curriculum simply doesn't work well with laptops. This means that teacher professional development must focus on the integration of new pedagogy, as well as in integrating technology into the classroom. Don't make the incorrect assumption that younger teachers are more open to using technology in the classroom. In fact, in our School Board, we witnessed our more "seasoned" teachers using the technology since they were already assured about their pedagogical practices.
However an important point to also note: An Inquiry-based, constructivist teaching approach is effective but not efficient. It is very demanding on teachers to individualize instruction, especially in regions where class sizes surpass 30 on a regular basis. From a human point of view, the teacher has many challenges to supervise and effectively instruct students. This new reality, i.e. the numerical aspect of the classroom does not allow for specific student support.
There are Four Phases of Deployment and Characteristics: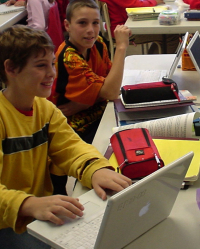 "Euphoria" Phase: Lasts about 8-12 months from first deployment

Initial Professional Development (PD) given on technical issues for teachers, PD for students is limited.
Few complaints from participants. Everybody loves the project!
Philosophical "Buy-In" by educators. Pragmatic "Buy-In" missing in some quarters.
Technical issues arise as usage increases.
Evaluation drives Instruction. This is a cardinal rule for educators.

"Dip" Phase: Lasts about 13-24 months from first deployment

Integration slows down
Technical issues mount
Evolution of relationship between Teacher and Student: More challenges
Control and Hierarchy/"Status" of Teacher may shift
"Euphoric" component of deployment is gone and replaced with "So, what now???"
New technological hardware/applications begin to surface
Professional development needs of teachers become increasingly complex, since you are now dealing with High to Low end users. Cannot use an "economy of scale" PD delivery system. Do you have enough trainers for all the sites?

"Re-Focus" Phase: Lasts about 20-36 months after the first deployment
Professional development radiates across systems, in many, many forms. Coordination becomes very significant.
Demands that technical infrastructure responds since users now produce increasingly complex work.
Community/Collegial applications appear in schools
Begin to note identified increases in student achievement. This is when the first signs of the previous two years begins to bear fruit.
Incorporate plans on integration considering new partners into entire deployment
"Building Capacity" Phase: Last 36 + months after first deployment
Address PD to build capacity and sustainability
Technical infrastructure must accept new paradigms
Develop pedagogical approaches further integrating
Review effectiveness/roles of central and decentralized formats of implementation
Ron Canuel is the Director General of Eastern Townships School Board, Quebec, Canada