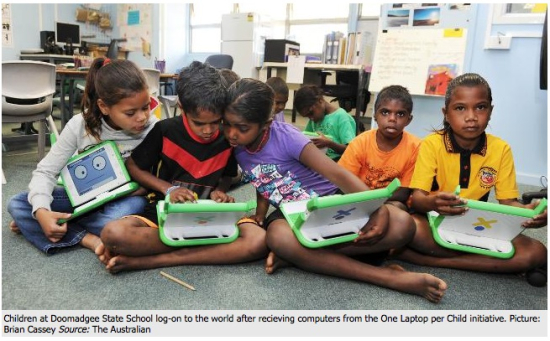 Recently, OLPC Australia has some interesting coverage by The Australian, the biggest-selling national newspaper in Australia. Press articles that may be misleading its readership to believe that XO laptops can accomplish miracles.
Here's the two stories in question. Tell me if you too think they're a bit over the top:
Laptops to lead children out of poverty
[OLPC Australia] aims to provide the laptops to 400,000 children aged 4-15 in remote and regional Australia by 2014, to give them the same educational opportunities as their metropolitan peers. Doomadgee is the organisation's first foray into Queensland. By next month, the organisation will have provided nearly 4000 laptops to children in Western Australia, the Northern Territory and Queensland.

The Australian and its parent company, News Limited, have been supporting OLPC since 2005 alongside corporate sponsors the Commonwealth Bank and Telstra. The Australian's editor-in-chief, Chris Mitchell, said the newspaper was proud of its long-standing support. "Education is one of the most important things you can give a child," he said. "This program helps give kids in remote parts . . . educational opportunities they've never had before - opportunities we take for granted in the cities."


XO laptop impervious to tough conditions
When technology big-thinker Nicholas Negroponte decided to do something about bridging the digital divide he hit on the idea of producing a laptop tough enough and cheap enough for Third World service. The result was the cheap, simple and rugged One Laptop Per Child XO.

The $300 XO is built to survive dust, rain and being dropped, has no moving parts and can be repaired in the field. The case is made of thick plastic and twin WiFi antennae latch the laptop closed so it can be carried with what becomes a handle. The 1.5kg laptop has a water and dust-proof keyboard and an ingenious 19cm LCD screen that is clear even in bright sunlight. In this regard it shames high-end laptops that sell for many multiples of its price.
As you can see, the article titles don't really match their content, and should put the reader on notice that these are News Corporation publications.