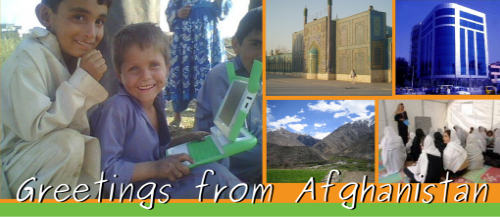 Congratulations to the OLPC Afghanistan team in passing out 450 XO laptops to the children of Iesteqlal High School in Jalalalbad, Ningarhar province, Afghanistan. While the ultimate goal is to provide XO computers to every single child in grades 1-6, 1,020 children in all, your start with 500 of 900 expected XO's is amazing. As we read on the Sugar Labs mailing list:
Afghanistan could be the case study that shows the ability of the XO to be at the center of redevelopment. If we can make the XO work here - then we can prove to the world that it can work almost anywhere! [...] The great thing about Afghanistan, is being a development work in progress, we can together, and will, improve that situation.
And I love how you are incorporating teachers from the very start. As we know from your deployment news, you've trained Master trainers, who in turn have trained at least twenty teachers at the school. And there is a strong localization push into two Afghan languages, Dari and Pashto, so that OLPC content is relevant from the start.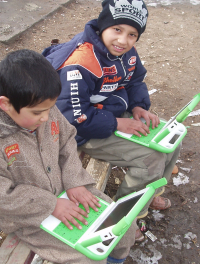 What Afghan kids do with it
But before you get too self-congratulatory, remember that you face many challenges, as Amirzai Sangin, Minister of Communications and Information Technology of Afghanistan, reminds us all:
The bottleneck for us will still be connectivity. We don't have connectivity in most areas. We also will need to solve the problem of recharging the laptops. Most of the country has no electricity. But if you really want the project to be successful, you have to have content. Content will be a problem. OLPC is just the hardware, but what will you do with it?
And that is the question we all hope you'll provide the answer to in the coming year. Good luck and do remember to tell us your progress.
Post Publication Update
It seems I jumped the gun on announcing the first day of OLPC school in Afghanistan. The project is delayed according to Sohaib Ebtihaj:
We just had completed the Teacher Trainings, made the school ready for the deployment and deployment will be on Feb. 10th. The students of only grades 5 and 6 (around 400) will receive XO laptops at first stage of deployment. We cant give the XOs to the students of grades below 5, as the education status of Afghanistan differs from those in other countries.
.