Over on The Walrus, "a Canadian general-interest magazine with an international outlook", praised author Jon Evans has put forth his learned opinion on One Laptop Per Child: What Went Wrong. Its only Too bad that Jon Evans is what went all wrong on an XO laptop review:
The screen and keyboard are tiny even for a netbook. Even its vaunted connectivity is badly flawed: my XO completely failed to connect to encrypted Wi-Fi networks that worked with both my other laptops. When you do connect, its Web browser fails to show paragraph breaks on Wikipedia pages, making the world's greatest collection of free information hard to read - on a laptop allegedly designed for education!
Apparently for Jon, the computing key to revolutionize education is to connect to encrypted WiFi networks so children can read properly formatted Wikipedia entries.
Forget mesh networking, sunlight-readable displays, localization, or indestructibility, he suggests the Acer Aspire One netbook as the learning tool of choice. And what is Jon's qualifications to have such an opinion?
I like to think I'm more qualified to do this than most - I write novels for a living, and have travelled through dozens of developing nations
Which I feel should be his exact disqualification to think he knows best what's right for a child in the developing world. Jon is approaching the XO as an adult with years, maybe decades of computer usage history. He already has a pre-formed idea of what computer speed, user interfaces, and connectivity models should be. Worse, he thinks that somehow children can learn learning using a cell phone:
What Negroponte & co. should have done was One Smartphone Per Child; a smartphone is not much different from a netbook that can connect to both cell networks and Wi-Fi, and has GPS...and that you can also use as, well, a phone.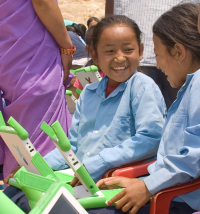 Nepalese XO laptop results
Now rather than suggesting that I might be the expert to rebuff Jon's postulations, I'd like to offer two outstanding examples of why The Walrus is wrong.
The success of OLE Nepal's deployments:
In SEED Magazine's Nepal: Laptop School dispatch, Gaia Vince shows us how Rabi Karmacharya is using the XO laptop to deliver high-quality education in a valiant effort to educate a generation:

At the start of the school year last April, the group began a test run of 200 computers, donated by the Danish IT Society, in two of Nepal's rural schools, for grades 2 and 6 (ages 6-7 and 11-12 respectively). This April, the project is expanding to 15 more schools across five districts, distributing a total of 44,000 6,600 laptops funded by a consortium of European bankers.

Does Acer have dedicated educational leaders like Rabi on their deployment teams? I think not.


Laptops are better than phones for educational change:
None other than Cory Doctorow, in the Guardian says laptops, not mobile phones, are the means to liberate the developing world:

I believe that the world's poor will derive lasting, meaningful benefit from widespread access to technology and networks. And I believe that laptop computers will eventually find their way into the hands of practically every child in the developing world, even if the OLPC project shuts its doors tomorrow.

Cory goes on to point out that cellular networks, unlike laptops, make it near impossible to add custom software, are always pay-to-use, and quickly controlled or turned off by governments. And those are better reasons against hardware than Wikipedia paragraph breaks
Oh and if Jon really is going to suggest the right
One Laptop Per Adult
I would suggest he educate himself with the
HP Mini Note
.