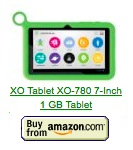 XO Tablets for Sale
Buy Your XO Tablet on Amazon.com
OLPC is selling the new XO Tablets on Amazon.com for just $149. Buy yours today!
Discussions
Christoph, Wayan, and all other contributors,

Thank you so much for making this one of t …

Beth, thanks for the kinds words. And you're certainly right: Regardless of what happens with OL …

Very classy post, Christoph! I always keep my OLPC years close to my heart and know you will too …

Lars. I'm aware that OLPC news will stop publishing soon.
I hope we'll be able to continue …

It's called wiki.laptop.org ...

Thanks for the kind words Lars, much appreciated!

So we're all going to leave now that several countries have a near to full roll-out and Kenya si …

"8 years on, would you recommend anyone start a new deployment with XO-1 laptops?" And …

Thank you Christoph, Wayan and everyone else who have contributed so many interesting articles a …

Hey, long time no see. Great to hear about your gig at Wikimedia Foundation. Hope to learn more …

Pamela, I totally agree with what you say ("Another benefit that I see in using the narrati …

mavrothal, we don't have any plans at all to take the site offline in the foreseeable future. Es …

Thanks for the kind words Eduardo.