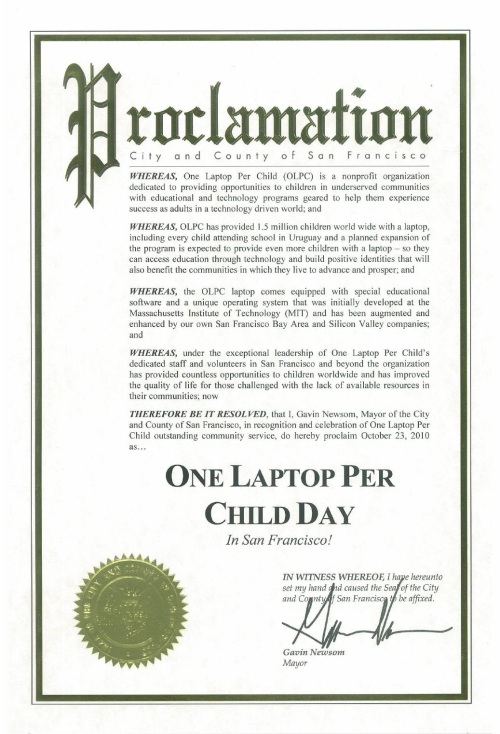 In what can only be described as the perfect start for the OLPC SF Community Summit 2010 that is taking place this weekend San Francisco's Mayor Gavin Newsom yesterday declared October 23, 2010 "One Laptop per Child Day".
Needless to say this is an outstanding recognition of the OLPC San Francisco community and the great work its many members and contributors have made over the past three years. Congratulations!
OLPC SF Community Summit 2010
The Community Summit began with what looks like a very nice reception on Friday evening where Mayor Gavin Newsom's declaration was publicly announced and handed over to SFSU's Sameer Verma. Photos of the event are available thanks to OLPC Learning Club DC's Mike Lee who is sure to post plenty more impressions over the next 48 hours on his Flickr account.
If you're like me and can't attend the event in person then I'd also suggest following Mike Lee, Sameer Verma, SJ Klein, Tabitha Roder, Pablo Flores, and @olpcsf on Twitter to get some glimpse of what's going on there.
Please also note that at least two of Sunday's panels (Deployment Success Stories at 11:30AM and Are we finally Learning Learning after 3 years? at 1:45PM) are also scheduled to be streamed via ustream.tv. More information about remote participation can be found on this page.
Update: Turns out the best Twitter accounts so far to follow the action from afar are Timothy Falconer and @waveplace (the second one being updated by Waveplace's Beth Santos).